and his hard work has been recognised by the Government
Related Links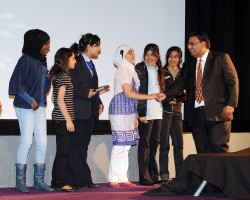 Shahid Khan and some of the pupils from Villiers
Are you involved with a local school? Do you have news/events/ information you would like to share?
Contact editor@ealingtoday.co.uk

Participate
Sign up for our free newsletter
Comment on this story on the
A School Governor from Ealing has been shortlisted for a prestigious award.
43 year-old Shahid Khan from Villiers High School is in the top three for the South East's Governor of the Year Award.
Shahid has been chair of the Board of Governors at the Southall secondary on Boyd Avenue for four years.
Now the Government's Education Department has named him among the Region's best, citing his personal contribution to the work of the Governors.
Shahid says his motivation lies in promoting what's best for the school.
He said:
''I believe Governors should be working for the best interests of Villiers and the community of which the school's a part.
''I've got an excellent team around me and together we try to make ourselves more accessible to all the students and their parents and carers.''
It's not the first time Villiers has been identified for excellence. In 2006 Dai Jones won the region's award for Secondary Teacher of the Year.
Now Head Teacher Juliet Strang is looking forward to yet another local triumph.
She said:
''It would be absolutely fantastic if Shahid won, he's worked so hard for Villiers, it would be marvellous for him to get the recognition he deserves.''
Competition Judges will meet Shahid and others at Villiers before making their final decision by June 22nd.
May 22, 2010