Campaigners seek support to take on the council over town hall community space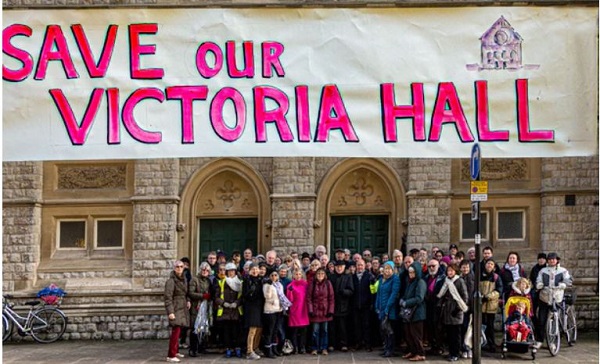 An newly launched appeal to raise funds for the long-running campaign to save the Victoria Hall, is already over half way to reaching its target.
The Victoria Hall was built next to Ealing Town Hall with money raised through a Victorian crowdfunding campaign. It's owned by a charitable Trust which was set up in 1893 to provide a venue for the community and 'Meetings, Entertainments, Balls, Bazaars, and other Gatherings whether Social or Political'.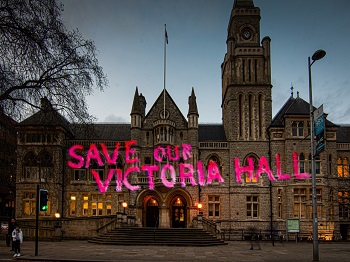 ( The Friends of the Victoria Hall (FoVH) marked the launch of their fundraising appeal this week by spelling out their message on the front of Ealing Town Hall )
Ealing Council has applied to the Charity Commission to be allowed to take control of the assets of the Trust that owns the Hall, so that it can be sold with the rest of the Town Hall to a hotel developer.
Roger Green, Chair of the Friends of the Victoria Hall (FoVH) said: "The Victoria Hall has served us for 126 years, hosting countless meetings, entertainments, protests, celebrations, examinations, exhibitions and more.
"Under this deal its facilities will be as good as lost to the people for whom they were created in 1893. Not only that, but part of the Grade II-listed building would be destroyed to accommodate the hotel."
The Charity Commission has proposed an amendment to the Victoria Hall Trust which would allow the Council to take ownership of the Hall.
This proposed 'Scheme' caused a storm of protest during the Commission's consultation over its proposal, which closed on 7 January.
Said Green: "There was such a big response that the Commission is not able to say how long its deliberations will take. We think it will be two or three months before we hear anything."
"Our own representations ran to a 38-page legal critique of the draft Scheme's numerous flaws, along with 612 pages of supporting documents."
He added: "Our expert legal advisers found so many faults in the details of the proposal that our initial legal costs are likely to be well above the original estimate.
''Consequently, we're announcing today the launch of a public appeal to cover those costs and we hope you'll encourage your readers, followers or whatever to make a contribution online at www.crowdjustice.com/case/save-the-victoria-hall."
"The Hall was built with Victorian crowdfunding; we're using its 21st century equivalent to save it," said Green.
The campaign launched on Tuesday (11 February) and has already raised £4,500 of a £6,000 target.
February 13th 2019