In recognition of Rebecca Harris' Oscar winning success for 'The Silent Child'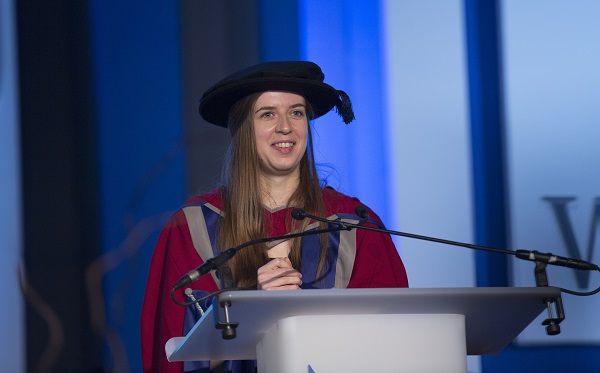 A young filmmaker has been awarded an Honorary Doctorate by the Ealing based University of West London - the same university from which she graduated in 2013, recognising her role in the Oscar-winning movie, The Silent Child.
Capping an incredible 2018 for the Producer from Clanfield, near Portsmouth, Rebecca Harris, 26, returned to the UWL only five years after she graduated with an undergraduate degree in BA (Hons) Film Production.
Most holders of Honorary Doctorates are years or decades older than Rebecca, but her achievement in producing an Oscar-winning film means she got the honour earlier than most.
In March, Rebecca was on the red carpet at the Academy Awards in Hollywood and held the Oscar for 'Best Live Action Short' in what was an incredible night for the team behind 'The Silent Child.'
Describing the experience of becoming an Honorary Doctor of Letters as 'surreal', Rebecca said: 'It's so much to take in that I can't get my head around it. It feels amazing to be back after five years.'
She had advice for young filmmakers embarking upon their own careers. 'You should just keep on making films because it is too easy to make up excuses. If you have an idea, you can make it happen.'
Rebecca collected her Honorary Doctorate at UWL's summer graduations held at Wembley Stadium, where 1,850 graduates collected degrees across two days.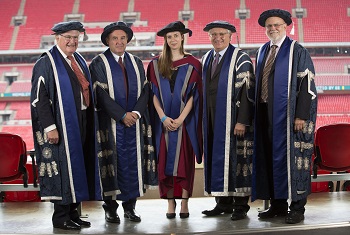 Lord Faringdon the Pro Chancellor, Vice-Chancellor Prof. Peter John, Rebecca Harris, Chancellor Laurence Geller CBE and Chris Humphries the Chair of the Board of Governors
UWL Vice-Chancellor Professor Peter John praised graduates for investing in their futures by successfully completing their studies.

'We believe nothing should get in the way of education and that students should be empowered to achieve excellence,' he said.
August 6th 2018