Local group will be demonstrating against Donald Trump and Tommy Robinson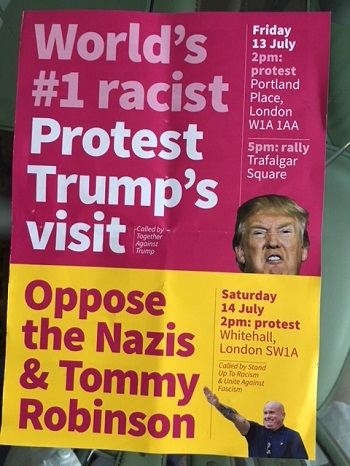 West London Stand Up To Racism are taking part in two protests in London, this weekend.
They're joining with thousands others opposing Donald Trump's visit to Britain on Friday, 13 July and on Saturday 14 July will be standing against supporters of Tommy Robinson, ex leader of the English Defence League, and former member of the British National Party (BNP), who has been imprisoned for contempt of court.
Balwinder Rana, spokesperson for West London Stand up to Racism, said, ''We will be protesting not only against Trump's racism or the rising threat from the far-right who are jumping on the bandwagon of Tommy Robinson but also the hostile environment against migrants created by this Tory government which resulted in the Windrush scandal.
''All three issues are interlinked because they result from the rising tide of racism in this country, in America as well as in many countries in Europe. Trump is at the forefront in boosting hostility towards migrants and Muslims and thus causing divisions within communities. But most people in this country want to live in peace and harmony with their neighbours and they love living in a multi-cultural environment. Thus the racists will never succeed in dividing our communities".
The protests are being supported by many local organisations and trade unions, including, Ealing Trades Council, Ealing National Education Union, Ealing Unite Community, Ealing Momentum and Ealing Green Party amongst others. MP's including Stephen Pound (Ealing North) and Rupa Huq MP (Ealing Central and Acton) and a number of councillors have also reportedly offered their support.
July 4 2018