Council say they will seek to prosecute perpetrators of 'reckless vandalism'
A number of new trees planted on Felix Road in West Ealing have been vandalised.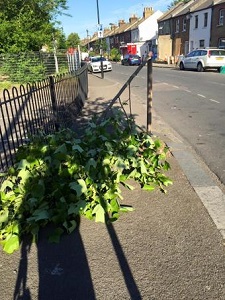 According to reports by @muffinthrower on the social media platform, twitter, the young trees were snapped yesterday.
Ealing Council has planted the largest number of trees in London as part of the Mayor of London's Street Tree scheme and this month the parks team will be finishing planting 1,500 new trees to help make the borough greener and more attractive.
An Ealing Council spokesperson said:
"Ealing Tree Service will inspect the site today and most likely remove the vandalised trees. We will seek to replace the trees during the next planting season. Ealing Council take all vandalism cases seriously and will to seek prosecute perpetrators. This reckless vandalism is a senseless cost to the taxer payer and if anyone witnessed the damage or knows who is responsible they should contact the police on 101 or Ealing Council on 020 8825 5000."
4th June 2015