Volunteers sought to help plant new woodland
10,000 trees will be planted in Blondin Park, Northfields, Ealing on Saturday 6 December by 400 volunteers organised by non-profit charity, Trees for Cities

Councillor David Millican, Northfields Conservative Councillor said:
"Yes that's right. Incredible but true that 10,000 trees will be planted in Blondin Park, Northfields, in just one day. This is a fantastic opportunity for Blondin Park as a whole new woodland area will be created with a diverse selection of trees. We've discussed this with many local residents and at the public Northfield Ward Forum and everyone is so enthusiastic. Trees for Cities have a proud track record of planting trees across the country and this year we are thrilled that their big project is in Blondin Park.
"Trees for Cities have worked closely with us as local councillors, local residents and Ealing Parks Rangers to design and create this new woodland"
"The tree planting on Saturday 6 December will be part of a fun day and volunteers can register with Trees for Cities"

Trees for Cities is a charity supported and sponsored by the Mayor of London, the Government and commercial companies.

Full details on the project and how to register as a volunteer:http://www.treesforcities.org/what-you-can-do/fundraising/plant-to-the-beat/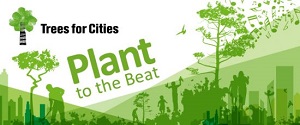 5th November 2014