Horse chestnuts felled on Ealing Common
Another four trees are being axed on Ealing Common this weekend.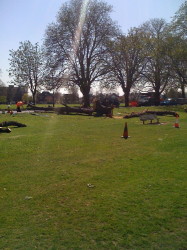 The mature horse chesnuts are suffering from bleeding canker - a disease which has no treatment or cure.
It brings to a total number of seven trees that will have been chopped - three were felled earlier this month - to the dismay of many local residents.
A council spokesperson said the area will be replanted:
''Unfortunately they.. need to be felled for health and safety reasons. The Ealing Common Society has been informed. The plan is to replant the area after consultation has taken place locally to decide the species to be replanted.''
April 17th, 2010