Huge tree crashes down onto busy W13 road
photos via twitter from @Noel_ Doyle
A woman driver - thought to be pregnant - has been taken to hospital after her car crashed into a tree which had toppled over on The Avenue last night.
Emergency crews were called to the scene near The Drayton Court Hotel in W13 at 17.45pm (Wed 25th May) and found the large tree had uprooted and fallen onto the road.
Police say a woman in her thirties believed to be the driver of the car - was taken to St Mary's hospital in Paddington as a precautionary measure.
The road was closed and diversions were put in place for much of the night as work got underway to remove the tree.
A council spokesperson says specialist teams were deployed at the scene.
As can be seen from the photo (courtesy twitter @noel_doyle) the tree was on a pavement which is currently being relaid with new paving stones.
There will be a full investigation to find out what caused the tree to uproot and fall onto this busy Ealing road.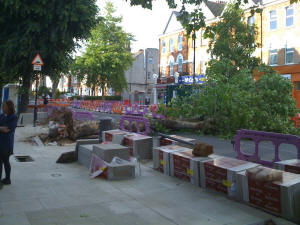 25th May 2011