Police on scene outside Hanwell home supplies store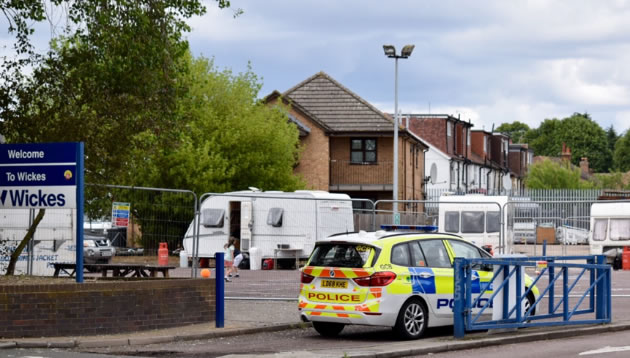 Picture: Liz Jenner
A group of travellers took up occupation in the Wickes store car park in Hanwell Friday (14 June).
The police were soon on the scene and children from the encampment were seen playing in car park in an area surrounded by a fence.
The store is closed to the public as the site is due to be redeveloped into flats. There were contractors on site and it is understood there was a confrontation between them and the travellers when they arrived. The contractors have now left and a second group of traveller vehicles arrived later on.
It's not known if this is the same group that recently occupied the Ballymore Waterside development site in Brentford but it does indicate a possible switch by traveller groups to setting up encampments on privately owned land.
Ealing Council have obtained a High Court injunction against traveller encampments which gives them greater legal powers to remove illegal incursions more promptly. The number of such incursions on public land in the borough has reduced since the injunction was in place but the order does not cover the Wickes site or any other privately owned property.
Hounslow Council announced that they too had obtained a similar injunction to cover their borough.
The police advise to be particularly careful of anyone soliciting for building work door to door in the area.
The travellers moved off from Wickes on Saturday night.
On Wednesday ( 19th) there were reports of an encampment appearing once again on Ealing Common. Officers have been informed and the injunction process enforced.
June 19, 2019