Labour's Mayoral candidate pays visit to Ealing Broadway and Greenford
Related Links
At Ealing Broadway Sadiq Khan MP Cllr Bassam Mahfouz and Onkar Sahota (London Assembly Member for Ealing & Hillingdon) and below Greenford's incline lift.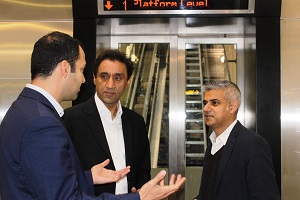 Participate
Sign up for our weekly Ealing newsletter
Comment on this story on the
The London Labour Mayoral candidate, Sadiq Khan, has paid tribute to work in Ealing and Greenford which he says is helping make the transport network more accessible.
He viewed London's first incline lift at Greenford Station before seeing works at Ealing Broadway station where the council are working with Crossrail and TfL to improve the station, forecourt and interchange outside.
Prospective Mayor Sadiq Khan and Greater London Assembly Member Onkar Sahota were seeing the work to improve step-free access in the borough which has recently won the council an award as best transport authority in the country.
Accessibility is a key plank of Mr Khan's plans for London and a priority for Ealing council's Labour administration.

Sadiq Khan said: "An accessible and efficient transport network is hugely important for the thousands of Londoners who commute every day.
"Huge credit must go to Ealing for their determination to ensure stations such as Greenford and Ealing Broadway are step-free and fit for the 21st century.
"We must follow their lead across London and make sure disabled people aren't disadvantaged every day when using our trains and tubes.
"As Mayor, I'll make it a priority to invest in a transport network that is admired across the world and serves all Londoners."
In the last few years Ealing's Labour Council has:
Installing an innovative incline lift at Greenford Station, the first of its kind on the UK transport network at less than a ¼ of the original TfL quote
Doubled lift and forecourt capacity at Ealing Broadway station on Crossrail's original proposals
Got a lift approved for Hanwell Station after being the only Crossrail station in west London that wasn't going to become step-free after opening up an additional entrance to the station
Cllr Bassam Mahfouz, Ealing's Cabinet Member for Environment, Transport & Leisure said:
"5 years ago we were facing disappointment at Greenford, lack of ambition for Ealing Broadway and a fait accompli at Hanwell. Today that's all turned on its head through the choices we've made rather than by chance. We didn't accept the status quo and we've worked with partners to make things happen. London desperately needs a mayor that cares about a fairer London; ambitious that we act on accessibility rather than abandon the cause. Sadiq will be that Mayor."
12th November 2015