How can we make a more sustainable community?
On Saturday 9 February Ealing Transition are holding an 'Open Space' event with the title, '12 years to save the planet'.
Everyone is invited to address the question, 'How can we as a community engage in local action and what steps can we take together to create a more sustainable Ealing?

Open Space is a means of people finding others who share the same concerns and passions and hopefully can begin to create practical responses to the pressing problems around us including poor air quality, plastic pollution, unhealthy food, etc.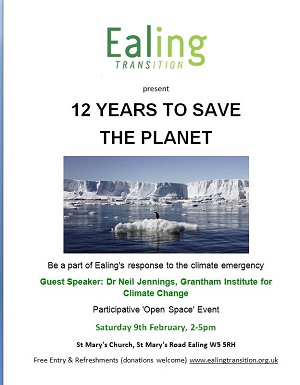 The session will start with a talk from Dr Neil Jennings from the Grantham Institute for Climate Change at Imperial College, then sharing some of the ideas already identified at earlier events in our programme before moving to the Open Space where the agenda is determined by those who have come.
Ealing Transition Initiative are a community group who have been active over the past 10 years in raising awareness about concerns about climate change and its impacts on our daily lives. We also aim to enable people to take practical steps as individuals and as a community to contribute to addressing these concerns and have initiated a number of successful projects including schools solar energy installations, community food growing, a beekeeping cooperative, community orchards and re-skilling days as well as an extensive series of films and talks.
5 February 2019