Pumpkins from Ascott allotments and acorns foraged from Walpole on the menu
Related Links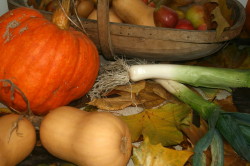 Ealing's very own Transition Initiative started up early this year. The group has spent most of 2009 raising awareness, showing films including the environmental blockbuster 'The Age of Stupid'.
Forthcoming events include a film called 'In Transition' about the wider aims of the movement (13th December) and a talk by Patrick Holden of the Soil Association (26th January). Full details can be found at www.ealingtransition.org.uk
Participate
Sign up for our free newsletter
Comment on this story on the
Nearly 100 people attended an event run by Ealing Transition at St Mary's Church to debate local food issues.
The day began with two talks from policy experts on the food chain. These explored the implications of the globalisation of food supply, and the ways in which our food system will need to be redesigned to adapt to climate change and energy scarcity.
This was followed by a number of inspiring stories from around the borough, then participants enjoyed a lively debate over a lunch made entirely from local food, including pumpkins grown at Ascott allotments and bread made from acorns foraged in Walpole park.
The afternoon was spent in group discussions, and working parties were formed to act on food policy, land for growing, help for first-time growers, food distribution, a local food directory, energy from food waste, composting and more.
Initially called Transition Towns, Transition Initiatives are springing up all over the UK and throughout the world.
At last count there were over 250 such groups; there is even a fictitious transition village on Radio 4's 'The Archers'.
These groups are neither political nor religious, just made up of ordinary men and women who want to make a difference at a local level.
Novemeber 30th, 2009