New books reveal local links with 'Crime of the Century
A new book about the Great Train Robbery has highlighted an Ealing connection.
'The Great Train Robbery Quiz Book' & 'The Ronnie Biggs Quiz Book' by true crime author Mike Gray list 200 unusual and interesting questions about the Great Train Robbery of 1963 which celebrated its 50th Anniversary last August, 2013.

Scotland Yards 'Flying Squad' Detective Jack Slipper, was born in Ealing in 1924, he was the son of a local tradesman, and was in later life instrumental in chasing and arresting most of the Train robbers, in particular Ronnie Biggs, who Slipper first arrested in Redhill, Surrey in 1963 after the Train robbery and then again in February 1974 in Rio De Janeiro, Brazil.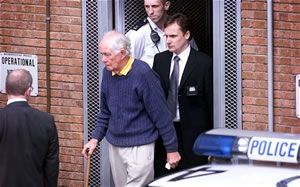 Ronnie Biggs leaves Chiswick Police station

He left Little Ealing School at 14 and went to train as an electricians apprentice for a local self-employed electrician in Ealing, before deciding to join the Royal Air Force and then the police at Hendon, After his opolice retirement Slipper went to work for Greenford company IBM offices, Ever since the Ronnie Biggs re-arrest in Brazil he became known in the UK press as 'Slip-Up of The Yard'.

The BBC portrayed Slipper in a play about tracking Ronnie Biggs around the world and Slipper successfully sued the BBC, claiming that it unfairly portrayed him as "the fall guy in an Ealing comedy"
Jack Slipper passed away in August 2005 aged 81.


Mike Gray
Author- The Great Train Robbery Quiz Book
Author- The Ronnie Biggs Quiz Book
Author- 101 Interesting Facts on Ronnie Biggs And The Great Train Robbery
Author- Ronnie Biggs - The Inside Story

18th February 2014