Collisions cause mayhem on one of London's busiest roads
Three men were taken to hospital after a heavy goods vehicle crossed the central reservation and shed its load on the North Circular (Tuesday 2nd April).
The lorry, which was travelling on the eastbound carriageway, crashed into the barrier.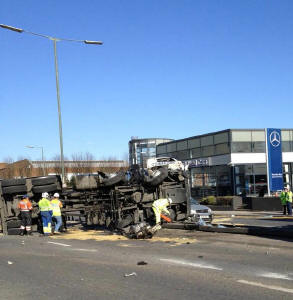 This caused its container to fall into the path of oncoming westbound traffic sparking a series of collisions.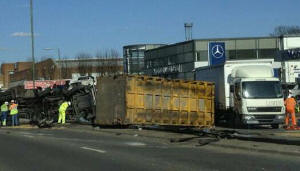 (photos via twitter @ therealnickhope)
Robin Hall witnessed what happened and writes on the Ealing Today forum:
'' Driving back to Ealing on A406 from a shopping trip, we saw a lorry wildly swerving about on the eastbound carriageway. It was rocking from side to side, then started to sway ominously. The lorry fell over onto its side on the central barrier just in front of us and ploughed across into the oncoming traffic on the westbound carriageway. We were the last car to escape the impact - the lorry missed us by only 2 or 3 car lengths. Huge dust cloud rose completely obscuring the A406 behind us - I think the lorry was full of building rubble.''
Traffic was subject to lengthy delays and diversions after the incident.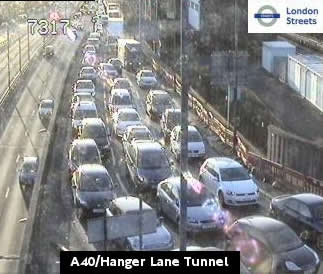 The A406 North Circular was closed in both directions between Hangar Lane Gyratory and Harrow Road A404.
London Ambulance Service say they took three men to hospital. One was suffering from neck pain and two others had shoulder injuries.
4th April 2013