Police and police dogs injured after crowd trouble around Town Hall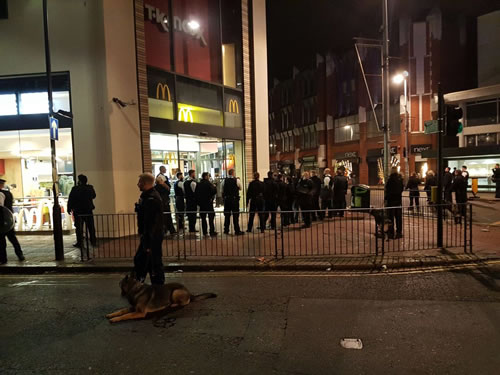 (photo posted on twitter @hopeisaname)
Six men have been arrested after a night of violence in Ealing outside the Town Hall.
A number of police officers and two police dogs being injured after they came under a barrage of missiles from a gang of youths. The incident is believed to have been sparked by the failure of the group to gain access to the "Wild n out" music event being held at the Town Hall this Thursday (22 December).
Police were first called to the Broadway after reports of a disturbance at Ealing Town Hall at around 11am.
Organisers had taken the decision to close the event in order to ensure safety in the premises but a large number of people were still trying to get in. The group madetheir way to Longfield Avenue where disorder broke out. Missiles were thrown at officers trying to clear the area. Road closures were put in place and a dispersal order was issued and units from the Territorial Support Group were called to the scene to assist.
In Mattock Lane, a man was found with injuries. He was taken to a west London hospital by London Ambulance Service where he remains in a stable condition.
Two police officers received minor injuries and did not require hospital treatment. Two police dogs were also slightly injured and were treated by a vet. Roads were reopened in the area at approximately 2am.
Six men - aged between 19 and 23 - have been arrested for public order offences. They remain in custody at west London police stations.
Deputy Borough Commander of Ealing, Detective Superintendent Robert Mahoney, said, "A large number of people tried to gain entry to a pre-planned event being held at Ealing Town Hall last night. They were stopped from entering because of safety concerns. This resulted in some of the group engaging in disorder.
"A swift and proportionate police response soon brought the situation under control and six men are currently in custody. I want to reassure the residents of Ealing that this was an isolated incident which has been effectively dealt with."
An Ealing Council spokesperson, said, "The council decided to close an event taking place at Ealing Town Hall last night early after large numbers of people attempted to access the venue. The ticketed event was booked by a registered charity as a talent show for local young people. As part of the booking we carried out a full risk assessment with the organiser and they were required to have on-site security in place in addition to the council's own security staff.
"We hire out our venues regularly to community organisations and dozens of charity events have been held this year without incident. The council worked closely with colleagues from the police to manage the closure of the event."

23 December 2016