Lord-Lieutenant of Greater London unveils paving stone in special ceremony
Related Links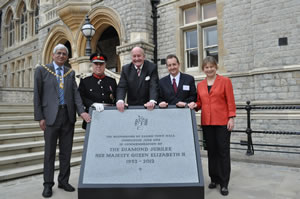 (L-R) The Mayor of Ealing, Councillor Mohammad Aslam, Sir David Brewer, The Deputy Lieutenant of Ealing, Robert Leader, Angie Bray MP
Participate
Sign up for our free newsletter
Comment on this story on the
A paving stone dedicating the recent restoration of Ealing Town Hall to HM Queen Elizabeth II's Diamond Jubilee was unveiled by the Lord-Lieutenant of Greater London, Sir David Brewer, on Monday 13 May.
It was unveiled by Sir David during a short ceremony outside Ealing Town Hall. The Mayor of Ealing, Councillor Mohammad Aslam, leader of the council, Councillor Julian Bell, and Martin Smith, chief executive of Ealing Council were also in attendance, as well as council staff and residents.
Sir David Brewer said: "This Diamond Jubilee commemorative stone from the people of Ealing is a truly appropriate tribute to Her Majesty in recognition of her devotion to her people and the service of her country".
The Grade II listed Victorian building has been the centre of many events over the years and the clock tower and spire are important local landmarks. The last major repairs to the building took place in 1989. Incidents of falling masonry had caused some serious safety concerns and some of the façade's important architectural features had started to deteriorate.
The £800,000 restoration sought to repair this damage and bring the building back to its former glory. The whole programme is now on the shortlist for the London region Building Conservation 2013 Award from the Royal Institution of Chartered Surveyors (RICS). If the project wins, it will be automatically entered into the competition to win the RICS Project of the Year 2013.
The paving stone is now permanently placed outside the town hall. It is inscribed as follows:
"The restoration of Ealing Town Hall
completed June 2012
In commemoration of
The Diamond Jubilee
Her Majesty Queen Elizabeth II
1952- 2012"
The leader of the council, Councillor Julian Bell, instructed officials to plan a dedication to Her Majesty The Queen on the occasion of the Diamond Jubilee. After extensive consultation, the wording above was chosen and the Diamond Jubilee logo incorporated. The wording was submitted to the cabinet office for approval before the stone was commissioned, but permission to use the Queen's name was initially refused. With assistance from the constituency MP, Angie Bray, opposition was submitted to the Minister for the Cabinet Office, Francis Maude MP. The council's application was referred to Buckingham Palace and dispensation was granted meaning the original wording could be used.
Councillor Julian Bell said: "Ealing town hall is one of our most iconic buildings and I'm immensely proud to see the sensitive and skilled restoration dedicated to Her Majesty The Queen's Diamond Jubilee. Even in tough economic times, the council has a duty to preserve its history for generations to come and I am delighted that it is once again safe for local people to enjoy."
May 14, 2013