Profile of campaigner Justine Sullivan from 'Stop The Towers'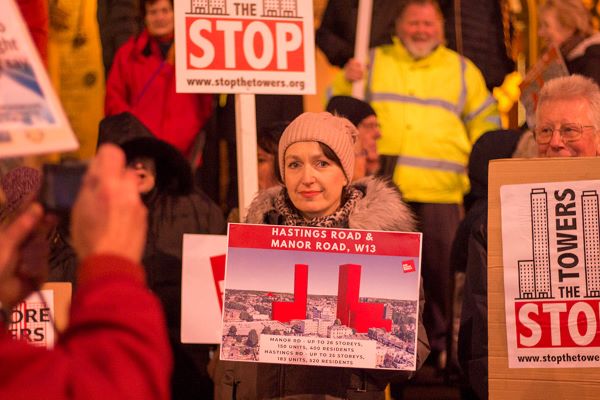 Justine Sullivan at a Stop The Towers protest
News that permission for a tower block planned for Manor Road in West Ealing had been turned down has been welcomed by the Stop The Towers (STT) team, formed to fight the over development of the Manor Road and Hastings Road sites. Justine Sullivan, a TV producer and mum of two, is Co-Chair of STT and told Annemarie Flanagan about the group and why she got involved.
I've been a part of The Drayton Community residents association for several years. We do lots of community work; working with local police and safer neighbourhood teams to help stop anti social behaviour in the area, crime and drug dealing near the primary school on Drayton Green. We work with our councillors on many local issues and they support a lot of the work we do – big community clean ups, community events. I started to run Playstreets on our road about 7 years ago – lots of neighbours came together,some had never met......now our street is like something out of the 1950s. Pre covid we were in and out of each others homes, borrowing cups of sugar!
When I first saw the original plans for a 26 storey tower it made me feel physically sick. I felt very angry that the developers said it was going to be built. They also said Ealing Council and the GLA supported it. The developers talked as though it was a done deal,as though this was happening, like it or lump it. We felt betrayed as we had a pretty good relationship with the council and this felt completely at odds with everything else we had done until that point. We joined up with the people who had just found out they were in line for a 25 storey mega block on Hastings Road – just 80metres from the Manor Road site.

Stop the Towers was formed by two active residents' associations and the initial part was very organic. From the start it was clear that some underhand behaviour was going on. I confronted a thug with a knife who had been sent to cut our community posters down on the day of the developers public consultation. We'd put some up to let residents know about the public consultation and this guy was sent to cut them down. It was really intimidating to find a man with a knife doing this. That kind of behaviour continued to happen over the summer during lockdown. Blacked out cars and vans were spotted by residents, early in the morning, sent to cut Stop The Tower's campaign posters down. They were not sent by the council, so you have to ask, who was doing this?
We know you aren't allowed to fly post – but these were community posters informing residents about the developer's consultation. This behaviour really annoyed a lot of people and then a fantastic guy called Adam covered one of his red route master buses in Stop The Towers posters and parked it outside the Drayton pub, which is where Southern Grove's consultation was being held. It made me laugh as I thought 'You can cut our posters down, but you can't take our bus away'.

I've not really been involved in any campaigns as such before but 9 years ago I fought hard to raise awareness of babies born with a tongue tie and nearly managed to get Panorama to do a whole programme as to why it wasn't part of a routine birth check. I also spent 7 years as a volunteer breastfeeding support in Ealing and also volunteered at the Tongue Tie clinic in Queen Charlotte's hospital as it was a subject I felt very strongly about, having had two babies born with one.

I also worked to raise the awareness of adults who had Asperger syndrome and were diagnosed later in life and ran workshops for people who were struggling in relationships with partners with Asperger syndrome.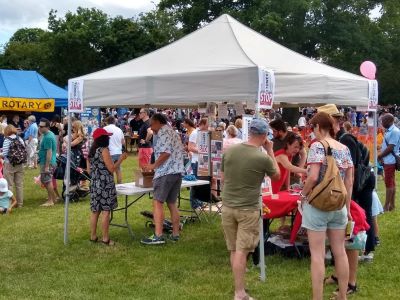 Campaigning at Pitshanger's Party in the Park
* What was your specific role in this campaign and how many others were involved?
Myself and Denise Colliver are co chairs and the core team is Simon Baker, Gerald Power, Sophie Meyrick, Francesco Fruzza.
We all took on different roles – played to our strength. Anything and everything from street teams, running street stalls, stalls at festivals, meetings with councillors, meetings with Ealing Council, Poster ideas, flyer campaigns, press releases, newsletters, shadows, lego, red blocks, running and organising meetings, facebook, twitter, Instagram, and the website which was designed by local web designer Pino Agnello.

I came up with the idea of the red block images to show what the two towers would look like together. Simon Baker and I worked with the designer and came up with the now red block iconic images on a flyer which shocked people when they saw them both together. Other campaign groups asked if they could use the red block idea which we thought was a great thing as it showed our strength in numbers and also showed the developments for what they were and not just hidden behind a tree or a lamp post.

I started to do podcasts with Gerald on various issues – shared ownership, why tall towers are bad for the environment. They've been going down really well and we have many more to come!

We have other people on the committee - Clare helped put the brilliant councillor pack together – Ben was great with the shadows of the towers and technical aspects. Caroline is great at researching stuff and compiling helpful data and information and we had many volunteers like Andrew and Ian on the planning team, Gill, Anthony, Robin, Darren and many others who took on other big projects. People keeping an eye on data etc etc.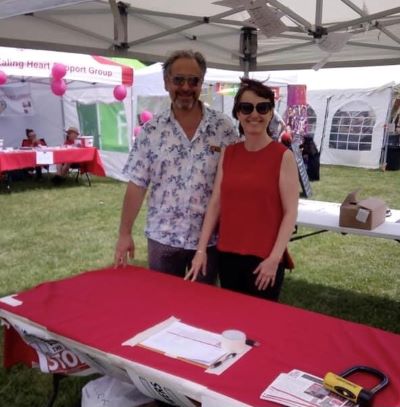 Francesco Fruzza and Justine at Stop The Towers stall
* How did you plan the campaign and get the support & what level of support have you had?
It was organic to begin with. The level of support was organic too. People were really upset with the idea of the tower being plonked in the middle of a low rise residential area.

We already knew our local councillors as we had done a huge amount of community work with them so it was easy to talk to them about this. We also knew our local MPs as we are members of residents associations and do a lot of voluntary work in the community. The support from the public was huge and we managed to get over 2000 people signed up to our data base. We were constantly building support as more and more massive towers were appearing across the borough and people could see the problem unfolding. We got together with every residents association in the borough who were suffering the same problems.

STT has had weekly meetings since June 2019. We sit and plan our strategy each week. Now via zoom of course!

* You were ill throughout part of this year - how did you manage to continue with the campaign?

I was very ill in February just after we had a massive STT protest outside Ealing Council with residents from all over the borough. We actually thought things would go on hold during lockdown, but the developers decided to strike whilst we were all locked in our homes and submit their application. They said they had 'listened' to feedback and reduced the height. They did bring it down by a few floors but with the double height mezzanine and a roof plant it was still a 21 storey building and they also made the shoulder building taller and the whole block a lot wider. It took me a while to get over being ill in feb and then we went into lockdown and I was struggling with two kids at home and trying to homeschool and trying to work out finances etc. So it was a bit of a shock when the developers got in touch to say they had submitted their plans. So we had to go into full on campaign mode when we weren't allowed to meet with other people and people were struggling with lockdown. Everything had to be done online. I also got very ill a few weeks back as I had a bad reaction to a vaccination and ended up with cellulitis in my arm – so that was another set back during this campaign.

* Did you believe you would succeed?
I really hoped we would win but it was very tight. The battle is not over until something decent which benefits the people in Ealing who need it most is built on those two sites. We are waiting to see what will happen next. We put together a very comprehensive councillor pack which outlined all the valid planning reasons to object the proposal including MP James Murray's letter of objection and sent it to all the councillors in Ealing. As ex-deputy mayor for housing, he knows a lot about the intended to be published London Plan and he knew the Manor Road development was against many of the policies.
The developers appeared to try and pull the wool over people's eyes with their 100% affordable claim. Affordable for who? Both schemes were for people on incomes from £40-£67k,not people who genuinely need housing.
The Manor Road proposal was contrary to:
The London Plan
The intended to be published London Plan
The neighbourhood plan
Ealing's own Site Specific guidance
Ealing's own policies on 'affordable' housing and the environment.

* What advice do you have for others who have an issue with something and want to take action?
Don't wait for anyone else to do it. Just do it and prepare yourself for how much time you need!
* Why is it important to get involved with local issues and what are the benefits?

I don't understand why you wouldn't. If something doesn't feel right then do something about it. I want to make where I live a better place so why wouldn't you plant flowers in the street and clean the litter up?
Benefits have to be living somewhere you care about and with others who feel the same. Community is everything to me. It's the reason I live in Ealing. I have great neighbours and great friends in Ealing and we have an amazingly diverse community. We want to make the place better because we care.
It's funny as everyone accepts the help residents have to offer for street cleaning, litter picking, community events or when they help stop anti social behaviour etc, but as soon as you object to over development you get called a NIMBY.
Were we NIMBYs when we cleaned the alley ways up for free?
Were we NIMBYs when we helped the police?
Are we NIMBYs because we run community events?
Are we NIMBYs when we work with the street teams and get rid of fly tipping?
Are we Nimbys when we take time to meet with cllrs and police teams to make the place safe?
Are NIMBYs because we plant flowers under trees in the streets?
NO!
* Following the Manor Road victory - what happens next/ is it over or is it just the start?

We need to know what the next stage is and once we do we can plan what happens next. We would like to start community forums where we invite the councillors and the council along to hear what the community wants and to engage early.

It's our hope that Ealing have heard us and will work with us to develop the site in a way that's environmentally and socially sustainable. We hope the GLA will not attempt to stamp out local democracy and over-rule this common sense and legally sound decision.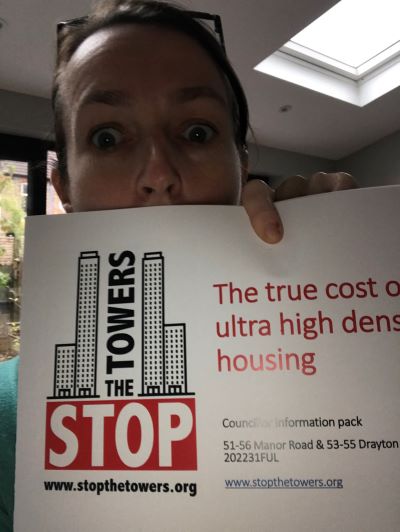 November 5 2020