Elthorne Park on Tuesdays
Hanwell RFC's FREE Touch Rugby is back every Tuesday in Elthorne Park (7pm).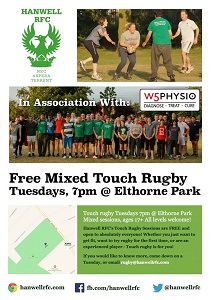 Touch Rugby is free and open to everybody 17yrs+. Because touch rugby is essentially non-contact, it is a mixed sex sport and perfect for everyone to join in.
We separate players by ability/experience/fitness levels, so whether you have played before or are completely new to the sport - you will ONLY play against people like you!
It is a great, cheap way to improve fitness (at your own pace), whilst meeting new people and having fun. It's also a great sport to play with (or against) your partner!
All you need is suitable footwear for running on grass.
Contact : rugby@hanwellrefc.com
13th May 2015