Residents and politicians concerned about plans for supermarket
Related Links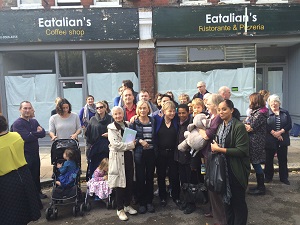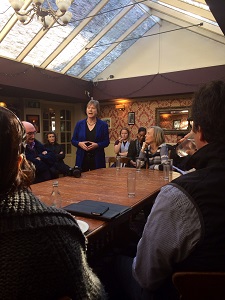 Cons MP Angie Bray (above)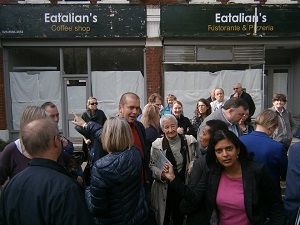 Labour PPC for Ealing Central and Acton Rupa Huq
Participate
Sign up for our free newsletter
Comment on this story on the
Proposals for a new Tesco in Ealing Green Conservation Area have united both Labour and Conservative politicians.
The Ealing Central and Acton Conservative MP, Angie Bray along with her opposite number Labour's PPC, Rupa Huq, both support a campaign against the development on St Mary's Road.
Dozens of residents are angry about the lack of consultation and many say they had no notification about the planning application.
They don't believe the former Oporto/Eatalian's site is suitable for a new supermarket and express concerns about the location, traffic issues and the impact of delivery lorries.
Others have taken to social media channels - such as twitter - and welcome the prospect of a new Tesco in the currently empty business space.
Ms Bray, together with Ealing Common Conservative Councillor, Joanna Dabrowska, met locals opposing the scheme this morning (10/Oct).

Cllr Dabrowska says if the planning officer's recommendation is to approve she has referred both applications (2014/4452 & 4453) to be debated in public at planning committe.
She told residents that she will step off the planning committee when these applications are heard and will fully support their campaign.

Angie Bray, said, "Everything I've heard from local residents and businesses indicate that this is an inappropriate development for the area and I will fight to preserve local communities and support independent businesses."
Meanwhile Labour representatives have also registered their concern about the application.
Labour's Parliamentary candidate for Ealing Central and Acton, Rupa Huq lives close by and says:
'' I hail from a background where independent small trade put food on the table for my siblings and I. Quite apart from the small business vs. clone town Britain/ Tescopoly argument there are planning grounds here that need opposing. Many traffic issues are unresolved. There is residential accomodation being destroyed in order to grant this which seems crazy in a borough and city with a housing crisis. Plus it is in a conservation area.''
Walpole Ward Labour Councillor Paul Conlon who is also on the planning committee and - restricted in what he can say - does admit he is worried about what he has heard from locals:
'' I have concerns about the notification process and the complaints from people who say they did not get the letters they should have received or did not get them until very late in the day and this process needs to be improved so people feel they have adequate time to comment.
'' No decision on the applications has yet been taken but if there is a recommendation to approve them then the ward councillors will certainly insist that they go to the Planning Committee for full debate.''
Fellow Labour Councillor, Gareth Shaw, is opposing the scheme:
''My own principal concern is the negative affect that numerous daily deliveries will have to the traffic on St Mary's Road. As well as causing additional congestion and disturbing residents living close by, I believe that there will be a serious safety issue with vehicles that are turning out of Sunnyside Road and Cairn Avenue having their view blocked by any parked delivery vehicles.
'Time is running out, but I would urge all residents to make sure that their views are heard by responding to the planning consultation deadline which is 5 p.m. tomorrow afternoon (10 October) and can be found here http://www.pam.ealing.gov.uk/portal/servlets/PlanningComments?REFNO=PP/2014/4453 ''
Online comments can still be lodged by email : planning@ealing.gov.uk (ref PP/2014/4452 +PP/2014/4453)
11th October 2014 (updated)