Charity tennis tournament raises hundreds of pounds
Related Links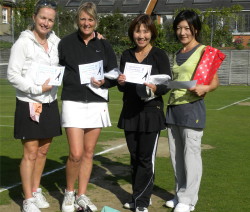 Winners Janeen Quentin (Brentham) and Juliet Lunn (Brentham) with runners up Teshi Yamaguchi (Ealing) and Sanae Horikoshi (St Johns Wood).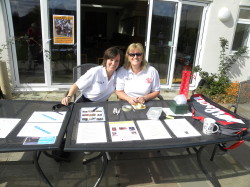 Helen and Juliet - the organisers
Participate
Sign up for our free newsletter
Comment on this story on the

Twenty two tennis players from Ealing, Brentham, Gunnersbury, Aylesbury, Byfleet, Maidenhead, Sheen, St Johns Wood, Burnham and David Lloyd competed on Ealing's fabulous grass courts on 17th September for Save the Children.
Six grass courts were beautifully prepared by Will, the groundsman. The sun shone from start to finish which made this the perfect surface. The balls were kindly donated by VK Sports, and David Lloyd donated drinking bottles for all competitors.
The day started with a warm up on the astro courts with Club Coach Chris Sordyl, before the Ladies commenced battle on the grass courts. After many hard fought matches, the eventual finalists were Janeen Quentin (Brentham) and Juliet Lunn (Brentham) against Teshi Yamaguchi (Ealing) and Sanae Horikoshi (St Johns Wood). After an exciting final, Janeen and Juliet were the winners.
The winners of this tournament go through to the Preliminaries on the 9th October which are held at the National Tennis Centre in Roehampton. The winners on 9th will then be invited to the Festival of Tennis the next day (October 10th) for the finals of the Tennis Cup. Unfortunately Janeen and Juliet are unable to play on 9th October, so lucky for Teshi and Sanae, they will go through to the final.
We raised £632.30 on the day, but there will be more money to come in from sponsorship. The raffle was very popular with fabulous prizes donated by local restaurants Charlottes Place, Carluccios and Cote, Tennis kit bag from VK Sports, Membership at David Lloyd, Jamie Murray signed tennis shirt, Tickets to Have I Got News For You and many other prizes. There were many happy recipients!
We ran a Fastest Serve competition which was won by Teshi Yamaguchi with a speed of 77mph. She happily went away with a bottle of wine!
Finally, my huge thanks go to Helen Hooke for helping me run this tournament. Without her excellent accounting skills, and organisation, the day would not have run as smoothly. Thanks, also, go to Toby from the Ealing Gazette who came down to cover the event and took lots of photos, and for Ealing Lawn Tennis Club for donating their club and courts for the day.
Save the Children aid workers are in Pakistan, responding to the devastating floods that have now affected around 20 million people. Those who have survived the floods now face homelessness, debilitating hunger and disease. They're reaching families now with food, shelter and medicine – but want to help 2 million people within six months and need your help to do this.
Find out more at www.savethechildren.org.uk/pakistanfloods
Juliet Matthews
21 September 2010