Hockey players secure valuable funding from council
Related Links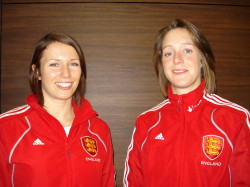 Anne Panter and Hannah Macleod play hockey for Great Britain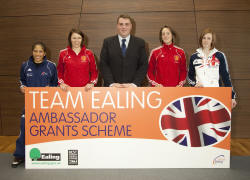 (l-r): Hannah Beharry, Anne Panter, Councillor Stacey, Hannah MacLeod and Laura Turner. (Joshua Webley was competing when the team was announced on Friday).
Residents Welcome New Leisure Centre
Participate
Sign up for our free newsletter
Comment on this story on the
Two hockey players from West Ealing are aiming for gold at the 2012 Olympics.
Anne Panter and Hannah Macleod from Argyle Road are part of the Great Britain squad and have just secured a place on Team Ealing - the Council's ambassador grants scheme.
In total five successful athletes will each receive a £12,500 grant, paid in instalments, to help with the costs of training and competing at the highest level in the build up to the London 2012 Games.
Ealing Council Leader, Councillor Jason Stacey, announced the members of Team Ealing at the launch of Northolt Leisure Centre on Friday afternoon.
Ealing Council is proud to announce Team Ealing:
Sprinter, Laura Turner, 27, of Northolt. Laura is coached by Linford Christie and competed for Great Britain at the Beijing Olympics.
Hockey player, Anne Panter, 25, of West Ealing. Anne belongs to the Great Britain training squad and played at the Beijing Olympics.
Hockey player, Hannah MacLeod, 25, of West Ealing. Hannah plays hockey with Anne on the Great Britain squad and won bronze at the European Championships last year.
Boxer, Hannah Beharry, 23, of Acton. Hannah was selected to box for England after only three fights and is Britain's number one female boxer in the under 48kg weight category.
Tae Kwon Do champion, Joshua Webley, 18, of Greenford. Joshua has competed in the World and European Championships as a junior and was ranked as Great Britain's number two in his first senior year of competition in 2008.
Anne Panter said:
"I'm really excited to be part of Team Ealing. It's a fantastic opportunity to meet other athletes from the area training for London 2012 and the support will be invaluable for my preparations."
Hannah Macleod said:
''This money will really take a lot of financial pressure off. Training can be really expensive what with travel costs and all the extras, this will really help.''
Council Leader, Councillor Jason Stacey, added: "The borough is home to some very talented athletes and I am delighted that we had such a high calibre applying to join Team Ealing. I would like to congratulate our five athletes and I am looking forward to following their progress. I am sure they will do themselves, the borough and the country proud."

The athletes will carry out ambassadorial duties to help promote sport and healthy living in the borough. This will include visits to schools and community groups, writing reports on their progress and helping to inspire others to become involved in sport.
February 3rd, 2010