Jagpreet Hayre from Dormer Wells features in one of series of films 'Get Into Teaching'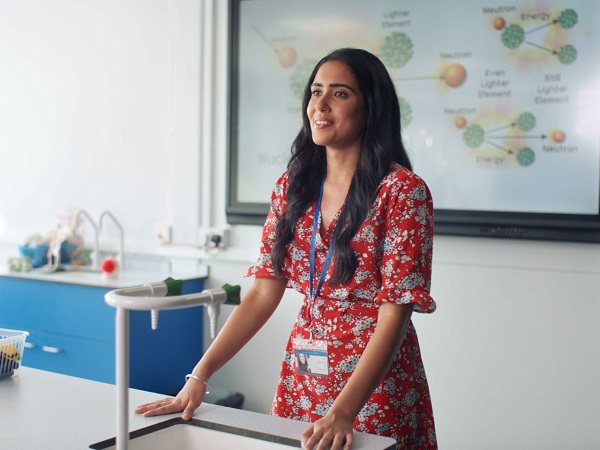 A local teacher from Dormers Wells High School in Ealing is one of the stars of a new national social media campaign that aims to inspire people to consider teaching as a career.
The seven new films, created as part of the national Get Into Teaching campaign, feature a cast of real teachers from across England, who highlight how teaching engages, supports and inspires the next generation.
One of the short films – going live from this week across Get Into Teaching social media channels – showcases the positive influence Jagpreet Hayre has through using her individual skills, knowledge and experience.
The launch of the first videos coincides with World Teachers' Day on Saturday 5 October, providing a timely occasion to celebrate the efforts teachers make to education and the development of children and young people.
Jagpreet Hayre, a Science teacher from Dormers Wells High School, started teaching this year. Commenting on her involvement in the films, she said:
Jagpreet Hayre said: "I'm proud to be part of this new social media campaign, as it helps showcase how rewarding a career in teaching can be. Like many careers, teaching comes with its challenges, but knowing you can have a positive influence on students, both inside and outside of the classroom, is so rewarding.
"You have the opportunity, through every lesson, to support, inspire and ultimately shape lives. My favourite part of being a teacher is being able to encourage, inspire and mentor students. My own teachers supported me and taught me important academic and overall life skills and I am so thankful for that and happy that I have the opportunity to do the same for my students now."
The new films will be run across the campaign's social media channels including Facebook, Instagram, Twitter, Pinterest and Snapchat.
Applications for teacher training, starting in September 2020, open on 8 October 2019.
Roger Pope, spokesperson for the Get Into Teaching campaign and a National Leader or Education, said:
"Great teachers can help shape the lives of students on a daily basis. We hope that our new social media films will convey the many rewards that a career in teaching can bring, for anyone who is passionate about inspiring the next generation.
"I would encourage anyone looking for a rewarding and purpose-led career to explore teaching as an option by visiting the Get Into Teaching website and registering their interest."
The Get Into Teaching team has experienced advisers available to give free support and advice. For more information about teaching as a career and to register your interest visit: https://getintoteaching.education.gov.uk or call the Get Into Teaching line on 0800 389 2500.
7th October 2019