HMRC workers protesting over reorganisation plans which will lead to job losses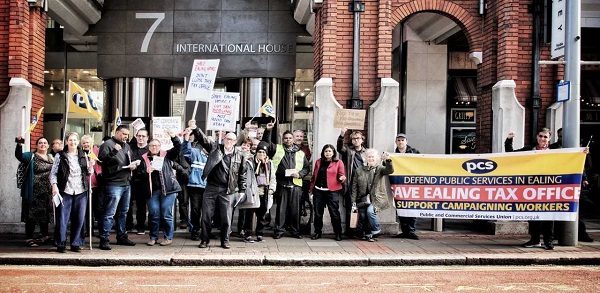 A previous demonstration agains the Ealing tax office closure
Over 150 members of HMRC staff at International House in High Street Ealing Broadway are taking strike action over plans to close their office.

The staff are all members of the Public and Commercial Services union (PCS) which represents workers right across government departments. HMRC are planning to close the office as part of government proposals which includes closing all local offices and moving to 13 regional centres.
PCS members voted overwhelmingly for strike action and action short of strike in a recent ballot beating the government's thresholds for doing so decisively.
A PCS union spokesperson, Mark Benjamin said "We are the nearest office to Heathrow airport and in this time of uncertainty over "Brexit" the department should be allowing the local staff to continue to offer a first class service to the public within west London and beyond.
''The majority of staff are at risk of redundancy due to not being within reasonable travel of site and are being told they could relocate to Stratford, which is not yet built.
"Loyal and hardworking staff with years of experience will be lost if the office closes. Losing pay and withdrawing our labour is our last resort to get senior management back around the table to negotiate a mutually acceptable outcome".
It is expected that on 20 March PCS General Secretary Mark Serwotka, currently President of the TUC will join the strikers at Ealing along with local politicians to offer support.
An HMRC spokesperson said, "It is disappointing that PCS members at our Ealing office have voted to take strike action. HMRC is transforming the way it operates into a more highly-skilled operation offering modern, digital services to create a tax authority fit for the future.
"We want to keep as many people as possible and expect the vast majority of the current workforce will either work in a regional centre or see out their career in an HMRC office.
"While we expect the majority of our people in Ealing will be able to move, everyone will have the opportunity of a 1-2-1 to discuss their personal circumstances and to establish what support they need. For those people who are unable to move, we will always work with them to find alternative solutions including identifying opportunities at our Inland Pre-Clearance site at Hayes and in other government departments such as Border Force and the Department for Work and Pensions."
14 March 2019 ( updated)