Investigators urging anyone around Sycamore Avenue to help
Investigators from the Independent Police Complaints Commission (IPCC) will be in South Ealing this afternoon (Friday, 9 August) appealing for witnesses to an incident involving Metropolitan Police Service (MPS) officers last week.
MPS officers were called to an address in Sycamore Avenue following reports of a domestic incident at approximately 4.50pm on Friday, 2 August.
A 44-year-old man was seen by officers to self harm by taking a knife to his neck and was making threats to further harm himself.
Officers attempted to gain entry to the house and Taser was deployed.
MPS officers then began negotiating with him during the night and into Saturday (3 August) morning.
Shortly after 10am Territorial Support Group officers accessed the house and officers discharged Tasers.
The man was detained and taken hospital where he remains in a stable condition.
The MPS referred the incident to the IPCC on Sunday, 4 August and an independent investigation began.
IPCC Commissioner Mary Cunneen said:
"IPCC investigators will be in Sycamore Avenue, South Ealing, today between 4 and 7pm distributing leaflets, carrying out house-to-house enquiries and stopping passers-by in a bid to identify witnesses to the incident last week.
"Our investigators will also return tomorrow morning between 8 and 11am to see if anyone witnessed the events last week which led to this man being injured.
"I would urge anyone who was in the vicinity of Sycamore Avenue on Friday 2 or Saturday 3 August who may have information which could assist our investigation to contact the IPCC.
"Our investigation will examine what information was known by the Metropolitan Police Service, the decisions and actions of officers involved on Friday and Saturday and whether the use of Taser was appropriate.
"We need to understand the circumstances surrounding this incident in order to provide answers to the man, his family and the many members of the community who witnessed the events."

Anyone who can provide information regarding this incident is encouraged to contact the IPCC by email on Ealing@ipcc.gsi.gov.uk or call freephone 0800 096 9071.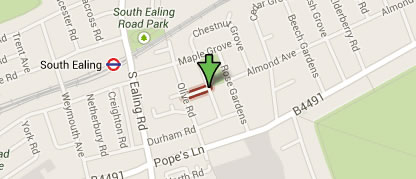 9th August 2013