Fire officers have been taking strike action today
Four 'contingency' fire crews have been called out to tackle a blaze - during the fire brigade strike - at a house on Lavington Road in W13.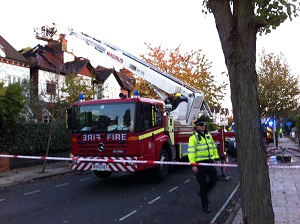 It's believed to have affected the roof of the property - but nobody is thought to have been hurt.
The Fire Brigades union has been on strike today (from 10am-2pm) in a dispute over the Government's reforms to the Firefighters' Pension Scheme.
27 fire engines have been based at 'strategic' locations with contingency crews situated throughout London to deal with emergencies.
They will be replaced by regular fire crews once the strike action has ended.
13th November 2013