Competition to help break down barriers over mental health
Related Links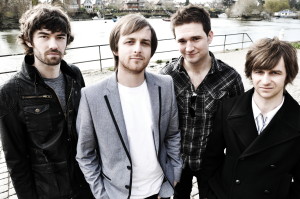 Storey: from left, Lee Enstone, Liam Storey, Joe Macklin, Arron Storey
Participate
Sign up for our free newsletter
Comment on this story on the
Ealing pop/rock band, Storey has joined forces with West London Mental Health NHS Trust to combat the stigma associated with mental health.
Joining the Trust's campaign, Open Minds, the band has written their new single, Wander Free, about mental health recovery and is asking students in west London in years 10 and over to design the CD artwork.
Lead singer, Lee Enstone says: "One in four people experience a mental health problem at some point in their lives – that's 25% of us. We want our music to make a difference to people's lives, and we're hoping Wander Free will be a trigger to the kind of discussions about mental health problems that help combat the ignorance about it."
The competition is directed at students in schools and colleges all over west London. The winner will receive a signed, framed copy of the final CD, as well as having their artwork appear on iTunes. Megan Singleton, from West London Mental Health Trust said: "This competition is a new and innovative way to get young people involved in real issues that affect them and their family or friends. Just about every person knows someone with a mental health issue, whether they're aware of it or not, so it's important that we help reduce the stigma that is currently associated with mental illness."
Comprised of Lee Enstone, Joe Macklin and brothers Arron and Liam Storey, the band is excited about the new single and the competition. Guitarist and keys player, Joe Macklin said: "Students can use any type of media to create their artwork – from painting and drawing, to photography and graphic design. The competition ends 30 April and we're looking forward to seeing the entries."
West London Mental Health Trust's Megan added: "We are so pleased to have Storey on board. Wander Free is a powerful and emotive song that everyone can connect with on some level. We can't wait until it's launched in a few months so we can share it with everyone!"
A demo of the song, lyrics, film, rules and more information about the competition can be found at www.wlmht.nhs.uk/get-involved/schools, or contact Megan on member@wlmht.nhs.uk or 020 8354 8325.

23rd March 2011