Parking review underway after huge opposition from customers and traders
Related Links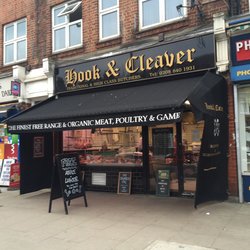 One of the shops on South Ealing Road that would have been hit by the parking changes
Participate
Sign up for our Ealing newsletter
Comment on this story on the
Ealing Council's plan to introduce charges for Stop and Shop parking in the borough have been abandoned - for now - after negative feedback from local traders and residents.
Under the original plans, which were due to come into effect in April, all residents of the borough would have needed to pre-register their cars and use their mobile phones if they wanted to extend their stay beyond the initial free 30 minutes. Non-residents of the borough would no longer have been able to use the "Stop & Shop" bays for free, but would have had to register and pay a charge.
The Council said that a standardised system would be simpler and fairer but it was unpopular with many shop owners particularly those with premises near the boroughs borders, and Pitshanger Lane wouldn't have been included in the proposals.
Opposition Councillors alerted local traders who quickly registered their disapproval saying that the changes would stop people from shopping and ruin many businesses.
An e-petition was started which quickly gathered 466 signatures.
Councillor Bassam Mahfouz, cabinet member for transport, environment and leisure, said today (1st Feb):
''We were in the process of developing plans that would change stop and shop parking in the borough, however after listening carefully to feedback from local shops and businesses we have decided to stop working on these proposals.
''Ealing Council is a staunch supporter of our borough's shops and businesses and there are parts of the borough where the current on-street parking arrangements do not work as well as they could for local traders, shoppers or residents. That is why I am launching a review of our parking arrangements in town centres and around shopping parades, engaging with traders and businesses, to look into how they can work better for everyone."
Northfields Conservative Councillor David Millican has welcomed the apparent U-turn, he said:
'' This is indeed excellent news and I am pleased that the administration have apparently listened to reason. Huge thanks go to the traders and several thousand residents who spoke so strongly by signing the petition we Conservatives organised. Thriving local shops are so important to our communities and these proposals, if they were implemented, would certainly be detrimental and damaging.''
The review will investigate if specific areas could benefit from more flexible parking arrangements such as 'Stop and Shop Plus' where the initial free 30 minutes parking session can be extended by paying a top up using the RingGo phone payment system. Problems with 'bay-blocking' which results in genuine shoppers being squeezed out will also be looked at with parking enforcement tailored to respond to this.
Findings from the review are likely to be implemented towards the end of the year. The Council say that any changes to parking arrangements will be advertised locally before they commence.
updated February 2nd 2016