Owner discoverd it missing at Ealing Broadway
Related Links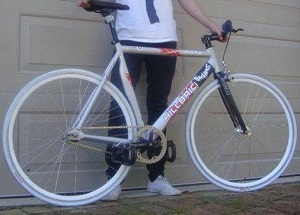 Anyone with information is asked to contact British Transport Police on 0800 40 50 40, or text 61016, quoting reference ESUB/B14 of 01/08/2014. Information can also be passed anonymously to the independent charity Crimestoppers on 0800 555 111.
Participate
Sign up for our free newsletter
Comment on this story on the
British Transport Police (BTP) officers have issued a picture of a bike stolen from a train travelling between Slough and Ealing Broadway.
The theft happened between 11.45pm on Monday, 28 July and 12.10am on Tuesday 29 July.
PC Richard Willis said: "The owner left his bike in the door area of the carriage. When he got up to leave at Ealing Broadway, he found it had been taken.
"The cycle is a very distinctive looking silver Hillbrick bike.
"These cycles are made in Australia and not as common in this country as other brands.
"I would ask anyone who believes they may have seen the bike in the picture, or been offered it, to get in touch with us."
Unfortunately, police say bicycles are a popular target for thieves but there are steps cyclists can take to reduce the chances of becoming a victim of theft.
These include registering your bicycle at www.immobilise.com or www.bikeregister.com to make it easier to trace if it is stolen.
When traveling with your bike try to keep it in sight where possible and make regular checks on it.
If you think your property has been stolen:
• Stay calm and don't panic. Report it to a member of transport staff or a police officer straight away
• Report a theft on the railway network to British Transport Police on Freefone 0800 40 50 40 or text 61016
In an emergency, always dial 999.
4th August 2014