Hanwell parents furious over stalled land deal
Parents of children at St Mark's School in Hanwell say the council should seek a Compulsory Purchase Order (CPO) if they can't buy the land next door.
The primary on Lower Boston Road is having to create more places by September and plans have recently been approved to redevelop the current site.
It was originally the intention that the plot adjacent, owned by Dr Onkar Sahota, the Greater London Assembly Member for Ealing and Hillingdon, should be used.
However Ealing Council and the senior Labour politician are blaming each other for failing to reach agreement over the sale. Parents say they must get back to the negotiating table and agree a price.
Last night the public gallery of the Council Chamber was packed and feelings were running high.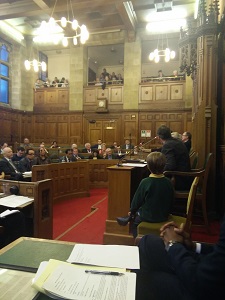 Mike Wood with his six-year-old son, Arthur sitting alongside, gave an impassioned speech urging the Council to sort out the issue.

He said: ''We adore our school, St Mark's. We're not political animals - we're ordinary parents. We're not nimbies either: we recognise the need for expansion. Last week, the school's fate was sealed in a planning application that was passed with unseemly haste, in what was a breathtaking display of ignorance and arrogance by the majority of the committee.''
Mr Wood said many believed that Dr Sahota was stalling on the sale to get the land re-designated so that it could be redeveloped in what he described as the 'Crossrail Gold Rush'.
He concluded by explaining the impact of the whole affair on the school:
''A once close school community is riven with discord: the overwhelming majority of parents and the wider community are against the ill conceived plans and have lost trust in the school leadership after a woeful lack of consultation and communication. I know of many parents who used to be happy with the school, that want to take their children elsewhere because of this. Our children face an uncertain future and this whole fiasco could have been avoided for want of 42 Lower Boston Road. 42 is the answer.''
Parents say if an agreement can't be made between the Council and Dr Sahota then the land should be aquired by Compulsory Purchase Order.
A spokesperson from Ealing Council said: '' Our original preference was to purchase the site next door, but we have been unable to reach agreement with the owner. Given the need to accommodate extra pupils at the school from this September we then developed plans in liaison with the head teacher and governing body which not only include extra classrooms but also a new school hall, new kitchen and a breakfast and food technology room.
'' Securing a compulsory purchase order for any piece of land is a lengthy and complex process which would only be used when all other options had been exhausted.''
15th April 2016 (updated)