Former pupil Joe Simpson returns to St Benedict's for prize giving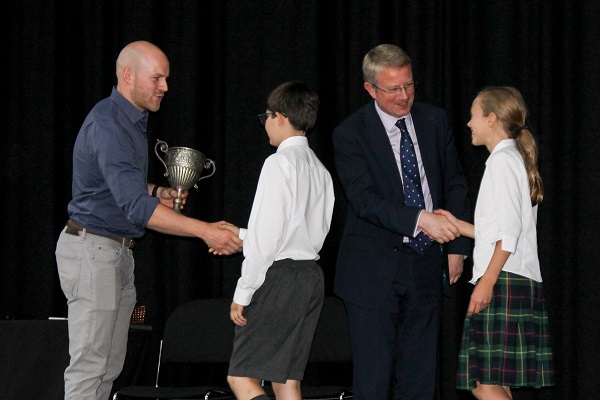 Joe Simpson (left) presents the prizes, with Headmaster Andrew Johnson
Wasps rugby player and former pupil Joe Simpson was Guest of Honour at St Benedict's Junior School Prize Giving.
The 30-year-old once-capped England scrum-half has played for Wasps for over a decade and will join Premiership rivals Gloucester next season.

After presenting the prizes – including the Victor Ludorum Cup which he himself had won at St Benedict's three times – Joe spoke about the need for empathy and kindness in his address to pupils, parents and staff.
"Be a nice person – the world really needs them", he said, adding that supporting each other can yield exceptional success for everyone: "What goes around comes around. If you are kind to others they will be kind to you. Resist saying unkind things, on social media or anywhere else." Joe praised Fiji rugby coach Ben Ryan, who creates an ethos of encouragement and support, partly by banning negative 'banter'.

The St Benedict's Junior School Headmaster, Rob Simmons, talked about the pupils' many achievements this year, including their recent production of Bugsy Malone.
Highlighting the importance of finding talents and developing them to the full, he quoted the American poet, singer and civil rights activist Maya Angelou, "My mission in life is not merely to survive, but to thrive; and to do so with some passion, some compassion, some humour, and some style."
8 July 2019