Estate agent discovers plenty of interest in bijou flat in W5
Related Links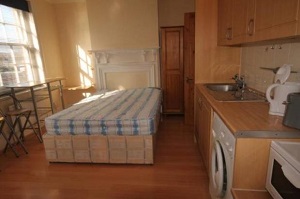 (Station Parade property -details no longer online from Northfields Estate Agents)
Participate
Sign up for our free newsletter
Comment on this story on the m
Making that first cuppa to have in bed would be oh, so easy if you rented out this studio apartment in Ealing.
Why? Because the bed happens to be situated in the kitchen!
The flat on Station Parade in W5 has been on the market for £804 a month and was described online by Northfields Estate Agents as having a "good sized living area".
It features a furnished 'large kitchenette', shower room and wooden floors throughout, but there was no mention that the bedroom was actually part of the kitchen.
Details of the flat - and photos showing the bijou residence - were reported in The Independent and The Evening Standard.
Northfields say they acknowledge that the photo was certainly 'not up to the award winning standards that are usual for Northfields', but feel it important to have photos honestly portray the property as it is.
Nick Devonport, the Northfields manager,told The Independent:
"The photo is a shocker and we accept that."
But he said the property received a lot of interest and was let quickly.
"The location is the key thing here. It's opposite Ealing Common which is on the Piccadilly and District line. It's 25 minutes into Piccadilly Circus and a few minutes from Ealing Common, one of the most desirable areas to live within Ealing.
"The fact that the landlord was including bills is also a good selling point.
"Supply levels in the London area are quite low and that is having pressure on housing prices because the demand is rising quite quickly. The price is about average for the area.''
The page advertising the property has now been removed.
18th February 2015