Star and Anchor aiming to bring top class pub food to Uxbridge Road
In these times of recession it's good news to report that a pub has reopened rather than closed for good.
The Baroque on the Uxbridge Road in West Ealing has been shut over the past few months but today (14th March) officially opened its doors to the public - complete with a new name and a major refurbishment.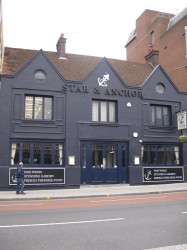 I was invited to a sneak preview last week and was rather impressed.
The 'Star and Anchor' is now a classy pub with a comfortable interior and an impressive garden area.
The freehold belongs to Heineken Breweries but the pub is run independently by businessman Edward Sheldon (who also owns The Park Tavern in Southfields).
He told me he wants it to become known for good food and makes no apologies for the pricing. He says : ' Providing top quality meals with the best ingredients doesn't come cheap. I think the market is out there - people expect more than burgers and chips when they go out now - of course we will provide that but want to have a more expansive menu with a variety of dishes.'
An evening menu with starters costing around £7 and main courses averaging double that certainly isn't cheap - but is it good?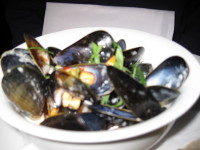 I had the Tiger Prawns in a White Brandy Sauce (£ 6.95) and my companion had Steamed Mussels with Garlic Chilli and Cream (£ 6.95). We both thoroughly enjoyed our dishes - although thought they could have added a bit more bread to mop up the delicious sauces (there were just two small pieces). Our comments were duly noted, and hopefully this small oversight will be rectified.
For mains I had the Pan Fried Salmon with Marinated Roast Peppers, New Potatoes and Tarragon Sauce (£12.55) my friend chose Pan-Fried Venison Steak with Sauteed Potato and Wild Mushroom Ragu (£14.50). Both meals were top quality, my friend couldn't get enough of the venison and said it had been cooked perfectly.
Dessert was a Classic Apple Tarte Tatin with Vanilla Ice-Cream (£ 5.50) for him and a rather alcoholic Lemon Zest Sorbet and chilled shot of Iceberg Vodka (£ 7.50) for me.
There is a large wine list and for real ale buffs Deuchars IPA and a house beer from Caledonian.
Edward admits he is rather nervous about his new venture in this particular patch of Ealing but hopes the local community will be supportive.
He says : " I'm sure the market is here and we plan to try lots of different specials at lunch-times throughout the coming weeks to attract staff from the offices along the Uxbridge Road. Hopefully with the weather improving customers will flock here and enjoy the food and the garden.''
The pub will be run on a day-to-day basis by friendly Kiwi manager Kevin Sweeney who knows the area well having been in charge at the Baroque. He's excited by the changes and naturally hopes his new look pub will be a great success.
Go and see for yourself.
EalingToday.co.uk wishes the Star and Anchor the best of luck.
14th March 2011