SR40 is a new movement with events planned in April
A series of events will be happening in Southall to mark the struggles against racism in the 1970's and 80's.
SR 40 is a campaign that involves residents, activists and artists.
The movement is remembering the murder of teenager Gurdip Singh Chaggar in 1976. The 18-year-old was stabbed in a racist attack which led to protests, also the death of school teacher Blair Peach in 1979, following an anti National Front demonstration.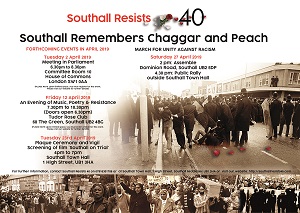 Campaigners say '' Despite these tragedies, our audacious resistance achieved a remarkable and life changing victory – people in Southall finally began to live and thrive in a town free of racial and fascist violence. It is important to remember how people united to stand up to racism, particularly as the dangers of racism and the far right are still very real today.''


Friday 12 April - Evening of Music, Poetry and Resistance at the Tudor Rose Club, starting at 7.30 pm
Tuesday 23 April - Plaque ceremony and vigil at Southall Town Hall, starting at 4.00 pm
Saturday 27 April - March for Unity Against Racism, assemble at Dominion Road at 2.00 pm
13 March 2019