New project aimed at tackling inactivity throughout the country
Southall will benefit from a share of £100million National Lottery funding to help tackle inactivity.
It's one of 12 places selected by Sport England to be part of a a pilot scheme which will run over 4 years.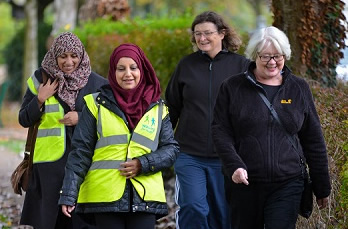 Latest research shows that a quarter of the general population (11.5 million people) are inactive, meaning they do less than 30 minutes of exercise that gets them slightly out of breath each week, with certain groups such as those in lower paid jobs, women and the disabled disproportionately affected.
Southall was put forward because it has a number of challenges which could contribute to residents being less physically active. There are significant levels of deprivation, with higher levels of unemployment and lower incomes than surrounding areas, plus bigger households and more homes with dependent children. A sixth of Southall residents has a disability and many people act as unpaid carers for relatives or friends.
Councillor Julian Bell, Leader of Ealing Council, said:

"Helping residents to be physically active is a huge priority for us because it makes such an enormous difference to people's health, independence and quality of life. We are delighted to have been selected for this fantastic scheme. Empowering communities and supporting people to change their own lifestyles is at the very heart of this project. We're really grateful to the huge number of people who have already been involved and are keen to work with many more, who can help change people's lives for the better."
Minister for Sport Tracey Crouch welcomed the news at the Local Government Associations' Sport and Physical Activity conference in London today, Tuesday 5 December.
She said: "Sport is a powerful tool that helps strengthen communities and improves physical and mental health. So it is right that we look to do all we can to encourage people to take part. Sport England will invest up to £100 million of funding, thanks to National Lottery players, to pilot innovative projects in 12 places to get more people from all backgrounds involved in sport and physical activity. We will look to replicate and scale up learning from the pilots across the country. I look forward to seeing these projects in action."
Jennie Price, Sport England Chief Executive said:
"We are delighted that Ealing Council will be working with us on this ground-breaking investment. We want to get to the heart of the issues that stop people being as active as they might like to be, and work alongside every part of the community and the groups and institutions in Southall that support them. "This is not all about sport - we're prepared to look at wider issues like transport, childcare, how easy it is to walk or cycle - whatever that community feels is most relevant to them. The process to be appointed as a pilot area for this work was incredibly competitive, and Southall has emerged from a very strong field. I am really delighted to be working with them.'
The 12 places and how they were chosen

The 12 chosen places were selected following a rigorous selection process with Sport England partners including Public Health England. They cover a mix of geographies (urban, rural and coastal), have a range of political make-ups (local authorities, boroughs, counties) and varying population sizes and inequalities to address.
They are:
1. Greater Exeter
2. Redcar & Cleveland and Middlesbrough
3. Withernsea
4. Greater Manchester
5. Pennine Lancashire
6. Doncaster
7. Birmingham and Solihull
8. Hackney
9. Calderdale
10. Southall
11. Essex
12. Bradford

Sport England will work closely alongside each place to devise a bespoke approach based on the unique needs of the local communities. Each place is likely to have its own solutions and will have the support of a Sport England team.
5th December 2017