Merrick Road footbridge to be removed
In preparation for the arrival of the Elizabeth Line, Network Rail's announced planned works at Southall station.
Over the course of 2017, the works will continue to install and upgrade the electrical and communications equipment and extend the platforms.
Some of the work will take place at night and at weekends, but there is expected to be noise and disruption.
The schedule includes the removal of Merrick Road footbridge which will take place from Saturday 11th February until Saturday 26th February.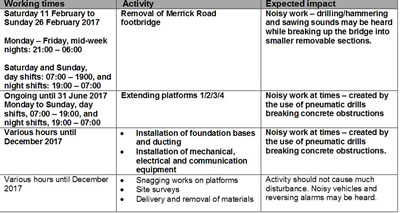 Network Rail says: '' We apologise for any disruption this work may cause and will endeavour to minimise the impact on local residents and station users. Those working on site will be briefed on their obligations to work considerately.Our contractor has worked closely with the London Borough of Ealing to secure appropriate consents for the works to proceed.''
Any queries regarding the work email crcrossrail@networkrail.co.uk or call our the 24-hour National Helpline on 03457 11 41 41.
.
7th February 2017