But disruption anticipated during area's major transformation
Expect disruption in Southall as work starts on its dramatic facelift.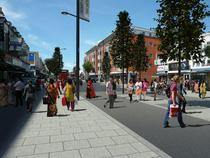 The multi-million pound project will see a massive overhaul of the centre as part of efforts to transform the town.
Known as the Southall 'Big Plan' it was developed after consultation with locals. It aims to make the area a safer and better place to live, work and visit by improving the town centre, community and sports facilities. It also aims to create new training and job opportunities and tackle anti-social behaviour.
Work will start on Tuesday, 5 November and continue well into next year.
This first major part of the work will take place along the stretch of Uxbridge Road running from South Road junction down to the Trinity Road and Stanley Road junction.
Four islands will be installed down the middle of The Broadway and the road will be resurfaced, changing its appearance and making it safer for pedestrians to cross and cyclists and other traffic to travel through the area. Pavements will be widened with new granite paving laid.
New street lights, CCTV cameras, trees, bins and benches and will be installed. A new bus priority traffic light will be added and raised paving will be laid at the entrance to all side roads adjacent to The Broadway, creating shared pedestrian and traffic zones.
This phase of the regeneration work will take place in two parts, with the first due to be completed in the first half of 2014. The second phase will begin in summer 2014.
The town centre and street improvements are benefitting from a £3.5million from the Mayor of London's Regeneration Fund, a £70 million fund to drive growth and prosperity across London, as well as funding from Transport for London's Local Implementation Plan, and Ealing Council.
Councillor Julian Bell, leader of Ealing Council, said: "A big thank you goes to the 1,400 local people who helped to shape the Southall Big Plan by telling us exactly what changes they'd like to see in Southall. This project really is a great example of community collaboration and there are so many exciting changes to come for the area. I'm looking forward to watching the community grow and transform over the next five years.
"We are doing everything possible to minimise disruption in Southall while the works take place, however the town centre will be busier than usual during the street improvements. People can help reduce congestion by walking or cycling short distances, traveling at off-peak times, and using public transport. Thank you to everyone for their patience during this time."
On Tuesday 22 October, Ealing Council's cabinet gave the green light to more improvements in Southall. They agreed to upgrade areas on The Green and King Street, as well as redevelop the area in front of Lidl supermarket in High Street to turn it into a public space for events and markets.
The entrance to Southall Park will be improved along with the parade of shops opposite the Manor House and the area in front of St Anselm's Church in The Green.
The council will also transform a piece of land in front of St John's Old Church in King Street into a new public space, while the church would be able to develop a new community venue on the corner of Western Road and King Street. Any changes to the land in front of the church – which is currently an unconsecrated graveyard – would be subject to public consultation and approval from the Church of England.
For more information, please visit www.ealing.gov.uk/southallbigplan
31st October 2013