Protesting closure of office after 'sham consultation'
Staff at the Southall Jobcentre are to take strike action in protest at the planned closure of the branch.
Members of the Public and Commercial Services Union (PCS) at the branch decided to take the action after it was announced last month by the Department for Work and Pensions (DWP) that the office was closing after what they say is a sham public consultation.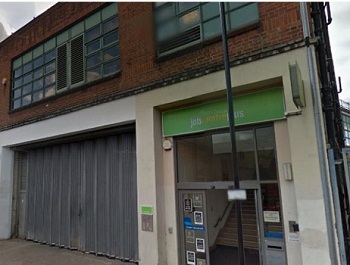 Southall Job Centre
The Jobcentre staff say the strike action which is due to take place on 12 September is not about their jobs but is a protest against the unfair removal of a vital and important service to the deprived, multi-ethnic, Southall community.
They point out that removing the Jobcentre from Southall means that many deprived people will have to pay to travel to the next nearest jobcentre which is in Ealing as opposed to walking as many do currently. Most people can currently walk to their local jobcentre.
They quote one claimant as saying that the bus fare means taking food from the poor and that the travel cost requires spending the "equivalent of 2/5 of my weekly food budget".
Staff say that the DWP have not provided the information to prove that they took equality seriously in this decision.
Theresa Raftery (PCS representative) said "the staff are not taking strike action lightly. Strike action is a last resort. However, up to today, we are not sure how the DWP intends to mitigate for the impact on people in severe deprivation, with certain protected characteristics, such as the Black, Asian, Minority ethnic (BAME) community, the disabled and, vulnerable".
The DWP consultation document says that the closure is to achieve more efficient use of DWP premises and save public money, Guidelines around the movement of jobcentres, referred to as 'ministerial criteria', have been used for many years across the whole of the UK network. They provide a standardised set of criteria when considering the movement of one jobcentre to another. Under these standards it is believed reasonable to expect claimants to travel 3 miles or 20 minutes by public transport from their existing jobcentre. Ealing Jobcentre is 2.8 miles from the one in Southall.
August 31, 2017