Poor health and hygiene at local restaurants
Related Links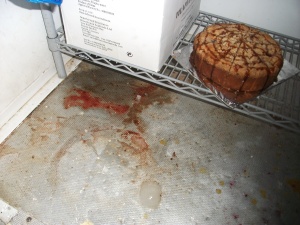 Dirty freezer floor at Salama Café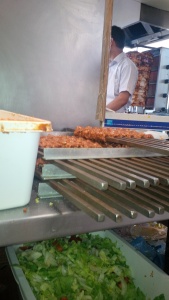 Raw mince stored above ready to eat salad at Shahi Nan Kebab
Participate
Sign up for our free newsletter
Comment on this story on the
Three Southall businesses have been taken to court following inspections by food safety officers.
Peri Peri Original, of 96 The Green, Southall was closed following an inspection where mouse droppings and an infestation of cockroaches was found throughout. There was a lack of cleaning throughout the premises with a build-up of grease, mouse droppings and food debris found on many surfaces. Staff on the premises had not been trained in food hygiene and were not following basic good hygiene practices.
A representative on behalf of Peri Peri Original (Southall) Ltd, of 96 The Green, Southall appeared at Ealing Magistrates' Court on Thursday, 4 July to plead guilty to five offences under the Food Hygiene (England) Regulations 2006. The company were ordered to pay £2,500 in fines and £1445.98 towards the council's costs.
Food hygiene officers closed Salama Café Restaurant, 98 The Green, Southall following an inspection on Monday, 24 June. The café was closed due to poor hygiene and mouse droppings in the dining and kitchen areas. The business remained closed until Friday, 5 July when officers were satisfied that extensive cleaning and pest control had taken place. On Thursday, 4 July the court ratified the food safety officers' decision to close the café and ordered the company to pay £778.24 towards the council's costs.
Ealing Magistrates' Court also ratified the food hygiene officers' decision to serve Shahi Nan Kebab, Station Bridge, South Road, Southall with a Hygiene Emergency Prohibition Notice. This stops the business being allowed to cut, marinate and assemble raw meat kebabs at the premises as it poses a high risk of cross contamination with ready-to-eat foods such as salads due to the particularly small size of the premises. The business is allowed to bring raw meat, kebabs and doners from another shop, already assembled, to store and cook in this shop. The court ordered the company to pay £654.28 towards the council's costs.
Leader of the council, Councillor Julian Bell said: "These are great results and show just how much work is being done to improve the food businesses operating in our borough. We will continue to offer training and advice to businesses that need it and take action where improvements are not being made. Poor hygiene and a blatant disregard for food safety can make people eating that food seriously ill or worse and this is just not acceptable."
18th July 2013