FA Vase 4th Round: Bradford Town (1)2 Southall (1)4 After extra time, FT 2-2.
The latest chapter in the story of their epic Buildbase FA Vase run saw Southall travel to Bradford-on-Avon in Wiltshire to face Toolstation Western League Premier Division opponents Bradford Town. The home side play at a higher level than Southall. That said, recent league results plus the fact that Southall had already claimed four scalps from higher divisions in this competition, gave the visitors strong grounds for optimism.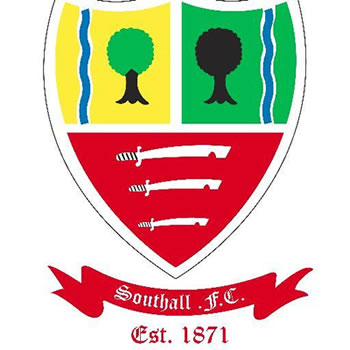 The home side had other ideas however, and took an early lead through Kane Simpson with a well worked move following a corner. Southall were not rattled however, and once settled, began to look impressive, especially in midfield. Their hard work and creativity was rewarded in the 37th minute with Wayne Harvey heading home an equaliser from a Jack Bennett free kick. The half time score of 1-1 was a fair reflection of the game at this stage, and both sets of supporters were appreciative of the quality and intensity of football they were witnessing.
The second half started evenly, with few chances for either side, but as it progressed, Bradford, who had always looked very dangerous going forward, began to apply pressure and pin Southall increasingly inside their own half, encouraged by the very vocal home support. Southall had two real let-offs following defensive errors, with Bradford fluffing easy-looking chances. Just when it looked as if Southall had somehow done enough to take the tie into extra time, a well rehearsed corner routine in the first minute of stoppage time unpicked the Southall defence, and Bradford's Mark Wall scored what everyone in the ground thought was the winning goal. It looked at first as if the stuffing had been knocked out of Southall. Yet the referee added on more stoppage time than anyone expected. Southall managed to regroup, get forward and sneak an equaliser through Gary Senior in the 5th minute of stoppage time to unexpectedly take the game into extra time after all!
The first period of extra time was a tense and even affair, with tired legs much in evidence on both sides. In the second period however, Southall began to gain the upper hand. With just 3 minutes remaining, an incisive through ball from substitute left back Luis Fernandez found fellow substitute Wilson Ferrera, resulting in one on one with the keeper Jamie Bartlett, which saw a penalty awarded. This was coolly converted by Adam Louth to give Southall the lead and send the away supporters into rapture!
Bradford immediately stormed forward from the restart. In the dying seconds they won a corner, pushing up all 11 players. Southall successfully cleared, allowing lone striker Wayne Harvey to calmly take the ball from inside his own half and run it unopposed into the empty net, clinching the game for Southall.
It was in all honesty very hard on Bradford Town, but the joy of the visiting supporters, fuelled in some cases by the very good traditional cider in the clubhouse, was unrestrained.
Southall are now through to the last 16, a truly remarkable achievement for a Step 6 club. They will be hoping that their long sequence of away draws in this competition comes to an end and that they get the opportunity for a home fixture in the next round that will surely stand a chance of rekindling some local interest in the club and of attracting a new generation of supporters.
11th January 2017