Funding from Mayor's regeneration fund and council
Related Links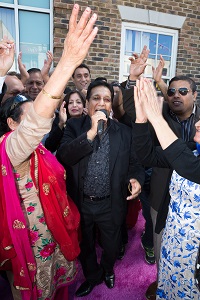 Channi Singh OBE performs at the Southall Broadway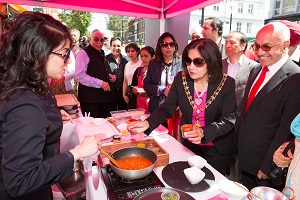 The Mayor of Ealing Councillor Harbhajan Kaur Dheer samples food from chef Dipna Anand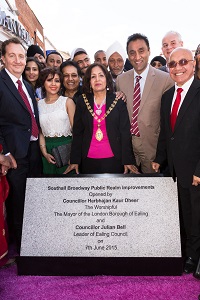 Leader of the Council, councillor Julian Bell, Mona & Channi Singh, Mayor of EalingCouncillor Harbhajan Kaur Dheer, GLA Assembly member Dr Onkar Sahota, MP Virendra Sharma
Participate
Sign up for our free newsletter
Comment on this story on the m
Residents of Southall have been celebrating after the completion of a £6 million refurbishment.
The town centre has been overhauled with changes to the layout of its main thoroughfare, the Broadway.
There are now new boulevard zones down the centre of the road allowing pedestrians to cross the Broadway in two halves; wider footways reducing crowding; signalised crossings have been removed and a 20mph zone introduced which is aimed at smoothing the traffic flow and eliminating stop start at traffic lights.
The road has also been resurfaced, new street lights have gone in, along with CCTV cameras, bins and benches.
A special celebration event was officially opened on Sunday by the Mayor of Ealing, Councillor Harbhajan Kaur Dheer and included performances by local artist Channi Singh OBE from Alaap.
An engraved paving stone will be laid outside 71-73 Southall Broadway to mark the event and the improvements that have taken place.
Ealing Council say a recent survey has shown a positive rise in local's attitude towards Southall Broadway, with results showing the percentage of people who thinks it is easy or very easy to move along the Broadway on foot increasing from 26% to 69%.
Leader of Ealing Council, Councillor Julian Bell, said: "It's been fantastic to already see such positive results from the improvements to Southall Broadway. The event was a great way to acknowledge the work that's been done and to thank all those involved, including local businesses and residents for their patience."
The project is a crucial part of the multi-million pound programme to transform the town called the 'Southall Big Plan'. Southall received £3.5 million in funding through the Mayor of London's regeneration fund, along with further investment from Ealing Council and Transport for London.
Chairman of the Mayor's Design Advisory Group Daniel Moylan said: "The transformation of Southall Broadway will breathe new life into the area and improve the daily lives of residents who walk, drive, work or shop along it. We are proud that the Mayor's Regeneration Fund has contributed to this important project and we congratulate Ealing Council for bringing it forward."
Information on projects happening in Southall can be found at www.southallbigplan.com.
9th June 2015