It cost half the original projected cost but is it going to be a white elephant?
Related Links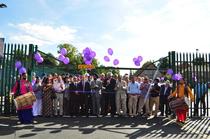 Above: Celebrating the new car park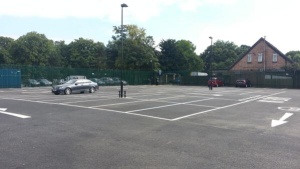 Above: photo taken by Cllr Phil Taylor at 3:15pm on Tuesday we said:
Cllr Millican said: '' 3 cars using a car park that cost over £31,000 for each space. You could totally resurface an entire residential road for the price of a single car park space in this white elephant."
Participate
Sign up for our free newsletter
Comment on this story on the
A controversial new car park has opened in Southall amidst claims that it's been a waste of money.
The car park is called Southall High Street. It is adjacent to Southall Market, opposite North Road and Southall police station, and is accessed from Uxbridge Road.
The council say Southall traders and shoppers have been asking for more and better situated parking for several years.

They claim the existing car park in Herbert Road is often busy (and often full at weekends) and many of the surrounding streets are subject to controlled parking restrictions.
They say the new car park is designed to meet this need while supporting local businesses by encouraging more visitors to the area.
Councillor Julian Bell, leader of Ealing Council, joined the Mayor of Ealing, Councillor Kamaljit Dhindsa, local councillors and business owners to open Southall's new car park on Friday 30 August.
Councillor Bell said: " This new car park will attract more shoppers, both locally and from further afield, keeping business afloat and creating employment.
"This is an exciting time for the Southall. Major works will be starting soon to improve the town centre making it safer and more accessible for pedestrians, cyclists and motorists. Crossrail will also be stopping here in the future, so this extra parking is coming at the perfect time. I am also very happy to announce that the car park was delivered at half the original projected costs."
However Councillor David Millican, Conservative Group Leader said:

"At over £31,000 per space the new Southall car park is set to be a white elephant. I regularly visit Southall and can always find spaces in the existing car parks. The Fairlawn Car Park is closer to Southall town centre, right behind Southall Town Hall, and always has spaces.
"The Labour Council has cut back by 40% the budget to maintain our roads and pavements, yet has spent more than £31,000 per space at this new car park. You could totally resurface an entire residential road for the price of a single car park space in this white elephant.


What do you think? Will you use the car park or will it be a white elephant? Discuss on the forum.
September 6, 2013