Teenagers from local school are helping the homeless
Related Links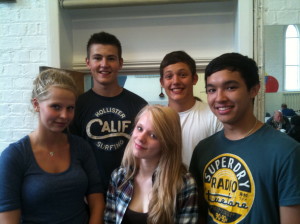 Front Row - Kathryn Grahame, Tess Fawcett (SVP President), Arthur Dow
Back row – Alex Ozegovic, James Coda
Participate
Sign up for our free newsletter
Comment on this story on the
Sixth Formers at St Benedict's School in Ealing, have been giving up their weekends to help staff a soup kitchen for the homeless.
The kitchen is held every month at St John's Church in Mattock Lane, West Ealing on a Saturday and Sunday.
It's a longstanding commitment fulfilled by the school's Society of St Vincent de Paul (SVP)

Upper Sixth student Tess Fawcett, who is this year's President of the Sixth Form SVP, says:
"We have around twenty members in our group, so we have a duty rota, with eight of us attending once a month between 3.00 and 5.00pm on a Saturday and Sunday.
''Half of us work in the kitchen preparing the meals and washing up, while the others serve the homeless people who attend that day. The soup kitchen has an average attendance of thirty people."

The Sixth Form SVP also helps out on a regular basis at Mencap's Enterprise Lodge in Stockdove Road, Perivale.
Headmaster Chris Cleugh founded the SVP at St Benedict's nine years ago, when he took over the headship. He continues to be the group's staunchest supporter.
"I am delighted that St Benedict's School has one of the largest active school SVP groups in the country. The Sixth Formers are responsible for all the organisational aspects. I believe that responding to the needs of others is an important element of the education we offer and an inseparable part of our school ethos."


20th September 2011