'Fragments of the Storm' recounts the life of Eddie Dean who died at just 19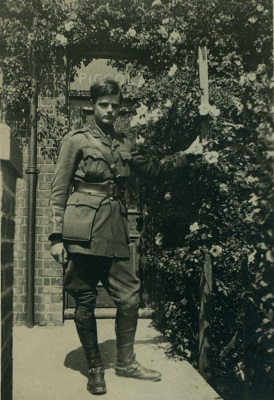 The short lifestory of Ealing soldier, Edward 'Eddie' Dean, killed during the Battle of the Somme aged just 19, has been retold in a well-illustrated book which ties in with the 100th anniversary of the Battle.
Fragments of the Storm, authored by Alison Quinlan, tells the story of Eddie's life and death based on records donated by descendants of the Dean family found at St Mary's Convent in Brentford. Eddie is the great-nephew of the Founder Frances Taylor (Mother Magdalen), recently declared 'Venerable' by Pope Francis.
Eddie, who lived in Park Road, Ealing from the age of eight, spent much of his schooling at St Benedict's Abbey School in Ealing and latterly at Wimbledon College.
The Dean family were prominent in both Catholic and military life in Ealing as Eddie's father Cyril, a solicitor, was a pioneer of the Volunteer movement there (the forerunners of the Territorial Army).
Through additional research from the National Archives, Kew, & Royal Artillery Library in Woolwich, and her own trips to France and Belgium, Alison has been able to provide a detailed recollection of his military training and wartime action in Flanders, Le Bizet and the Somme.
The final chapters of her book focus on Eddie's death and the struggles of his recently-widowed mother to come to terms with her loss. Several poignant poems form a part of that, where her Catholic faith has a clear influence.
Copies of Fragments of the Storm are available from the Ealing Local History Centre, or from the SMG Central Congregational Archive at Brentford.
Kenneth Campbell, Eddie Dean's nephew, said: ''Fragments of the Storm makes compelling reading for anyone interested in an intimate account of World War 1. I am optimistic that the book, a sympathetic journey through my Uncle Eddie's early years, army career and death, will attract the many readers it deserves.''
Sr Mary Whelan, congregational leader, SMG, said: "On behalf of The Sisters of the Poor Servants of the Mother of God I am extremely proud that we are so closely connected with Alison's work.
''Alison is publishing her book at a particularly poignant time as we remember the centenary of the First World War. It is only right that Eddie Dean is remembered, and our heartfelt gratitude goes to Alison for telling his story.''
8th June 2016