The veteran actor appeared for one night only at Questors Theatre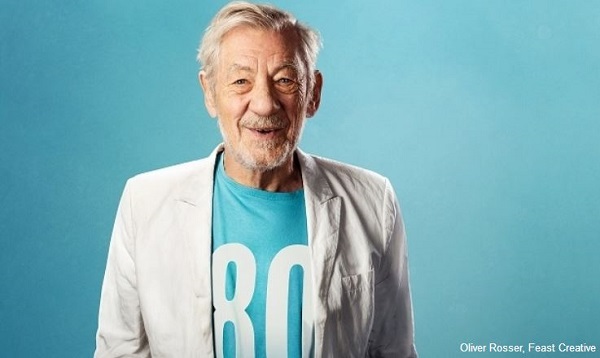 It became the hottest ticket in Ealing.
Sir Ian McKellen, embarking on a national tour to celebrate his 80th birthday, announced that The Questors Theatre was on the list.
The buzz of excitement in Mattock Lane was followed by the drama of trying to get a ticket for his one-man show. He was going to be in Ealing for just one night.
At the designated time, when the online booking page became live, Ealing's theatre-lovers clicked and tapped furiously. You could see the seats disappearing before your eyes. All gone in minutes.
On Monday night, on the set of our youth production of Bugsy Malone, Sir Ian appeared to huge applause. Not many people are guaranteed this kind of reception before they even speak.
For a man who will be eighty in May, you have to admire his stamina. He was on stage for more than two hours. In all, he is doing more than eighty gigs across the country. It would be a challenge for a youthful rock band.
In the first half we got plenty of anecdotes about his life in the theatre, and the other famous names he has worked with over the years. But it was also fascinating to hear his memories of growing up in Bolton, back in the days of variety and the repertory theatre.
At that time, the town had three theatres, so it is perhaps not surprising that McKellen got the acting bug early. Although as he told us, his first ambition had been to become a journalist. But after three years at Cambridge, he was bound only for the theatre.
After the interval, it was time for Shakespeare. Thumbing through a stack of texts on stage, he gave us a whistle-stop tour of all thirty-seven plays, with some scalp-tingling readings along the way.
McKellen was among friends. Many of those in the Ealing audience were Questors members, drama enthusiasts who put on up to twenty shows every year. And he has been a great supporter of amateur theatre. For everyone, it was a thrill to see and hear one of the nation's finest actors, performing on our stage.
The standing ovation at the end was heartfelt. "Wow!" said many, struggling for words as they headed for the exit. "That was amazing!"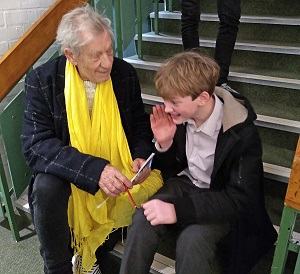 Sir Ian signing autograph for a young fan

Having taken his bow, the star did not just disappear into the night. He picked up a collecting bucket and persuaded his departing audience to hand over some cash for theatre improvements.
So, when we find ourselves sitting on nicer seats at Questors, we will remember the night Sir Ian McKellen trod our boards.
Peter Gould
7th March 2019