19 months after the Ealing riots
The Ealing Green shop destroyed in the August riots of 2011 has finally reopened.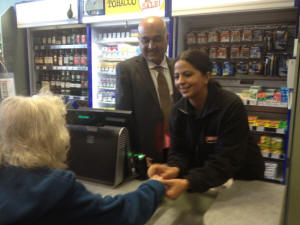 Amrit and Ravi Khurmy serving their first customer this morning (courtesy @juliangbell via twitter)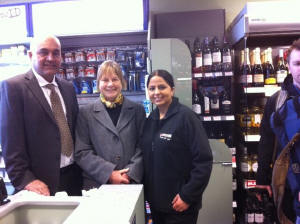 and with Ealing Central Acton MP Angie Bray
Amrit and Ravi Khummy were heartbroken when they saw their business go up in flames on the troubled night 19 months ago.
The couple had ploughed all their life savings into the shop and have had endless battles with insurance firms and a fight for compensation.
Today the nightmare of the riots were put firmly behind them and the couple welcomed customers to their new look Spar store.
They have had to split the floor space in two and give up half of it because they did not have the money to pay for all of it to be repaired.
It was not something they wanted to do but they told the BBC they had no choice.
"We just want to get back to normal, how we were before 8 August 2011."
"We just want to get the normality back into our lives. We've been through so much," added Mrs Khurmy.
"We've had so many setbacks. We've looked forward and then something has happened. We've gone back two steps.
"But now it's coming along. We are really excited and it's really nice to see light at the end of the tunnel."
15th February 2013