Open All Hours comedy location to be turned into flats

The shop façade apparently used as the pilot for well known sitcom, Open all Hours, is set to be rejuvenated as part of a new scheme of nine luxury apartments.
The historic Dutch Gabled façade is being retained as part of the development, 'The Dutch Gable', in Manor Road W13. There will be a mix of one and two bedroom apartments and one three-bedroom apartment, close to West Ealing station.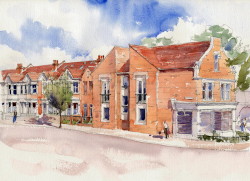 David Jones, Developments Director from Q Developments (www.qdevelopments.com), said:
"We were fascinated to learn the history of The Dutch Gable, and delighted to be giving the disused shop a new lease of life. We will be retaining the façade and rebuilding the site which has been carefully designed to reflect its history and surroundings.
"Ealing has become a popular location for young professionals – it has a lovely 'London Village' feel with a mix of shops, restaurants and bars, as well as lots of parks and open spaces. We expect these apartments to be popular as there's nothing else like them in the area."
Prices at The Dutch Gable are anticipated to start from £265,000.
March 9th, 2010