Community has been 'badly let down' says local Councillor
Related Links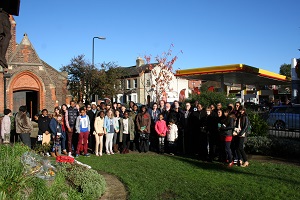 The Reverend Dr John Hereward, Vicar of St Mellitus Church, Hanwell W7, and protesters standing in St Mellitus Church garden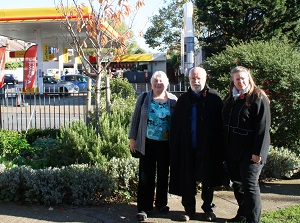 Dr Janet Hereward (GP), The Reverend Dr John Hereward, Vicar of St Mellitus Church, Hanwell, and Carolyn Brown, Chair of Hanwell Community Forum.
Participate
Sign up for our free newsletter
Comment on this story on the
Ealing Councillors have given the go ahead for a petrol station - in an area of Hanwell with a street drinking problem - to sell alcohol.
The Shell Garage on Church Road had originally wanted a licence to sell for 24 hours, but after receiving many objections reduced the hours to 8am -11pm.
Local residents are furious over the decision as they say the area already has a serious problem with anti-social drinkers.
Carolyn Brown, Chair of Hanwell Community Forum said:
'' This site is within metres of a hostel for people who have previously been homeless, many of whom are alcohol dependent.
''There are already over 15 outlets selling alcohol on the stretch of the Uxbridge Road between Hanwell Bridge and this garage close to the Church Road junction.
''Clearly, in this case, the business interests of Shell UK Oil Products Ltd (the site owner), and Ealing's Cllr Shital Manro (the franchise holder of the Shell Garage in Hanwell), are in direct conflict with the interests of the community that lives and works in Hanwell."
The Rev John Hereward, vicar of St Mellitus Church opposite the garage has been regularly subjected to both verbal and physical abuse from street drinkers using the church garden.
He says: '' It is patently unfair that the rich and powerful businesses applying for licences can afford professional representation whilst the community cannot, I am very disappointed with this decision and will be calling for a boycott of all non-fuel purchases from Shell.''
Local Elthorne councillor Nigel Bakhai supported the community and was very disappointed with the decision. He said:
"The people of Hanwell have been badly let down by the Licensing Panel. Anti-social behaviour associated with alcohol is a longstanding issue and we need a multiagency approach including the Police, the Council, and local health services to tackle the problem of street drinking in our Town Centre."
However, Conservative Councillor, Colm Costello, who spoke at the meeting, said that it was a reasonable application and should be approved. He says :
'' The Committee should agree the application because if they don't, we would almost certainly lose an appeal as it was a reasonable application and there was no proof that this would add to the problems in Hanwell. If we lost, Council taxpayers would end up paying our own and the applicants costs.''
Ealing Council say the propsal was approved subject to conditions, including times for the sale of alcohol, and the use of CCTV on the premises.
11th November 2013