MP says move against him motivated by religious and racial grounds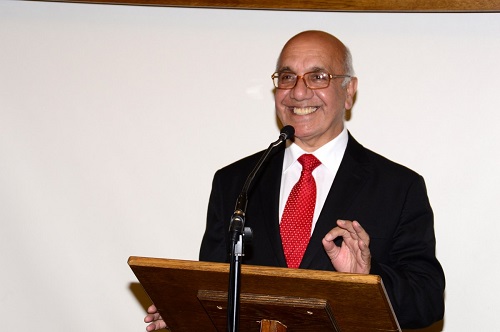 A no confidence motion against Virendra Sharma MP for Ealing Southall has been passed at a meeting of the local constituency Labour party this Thursday evening (21 March).
The motion which was sponsored by the local branch of the Unite union claims that the MP has failed to work with the local membership or 'act as a adequate constituency MP' that he has represented since 2007. It asks the party's National Executive Committee to allow the party in the constituency to commence the trigger ballot process so that a different candidate can be chosen for the next General Election.
He was criticised at the meeting for lack of attendance at previous meetings and for his slow response to casework. An email which he recently sent in which he allegedly suggested that many of the people who recently joined the party were racist was also raised. Mr Sharma said that his parliamentary duties meant it was difficult for him to attend every local party meeting. His attendance rate is 59% compared to over 80% for the other Ealing MPs Rupa Huq and Steve Pound.
The Chair of Ealing Southall CLP, Dr Onkar Sahota, said: "Ealing Southall CLP recognises that, in bringing this vote of no confidence in Virendra Sharma, our delegates have exercised their democratic rights as provided for under the rules of the Labour Party.

"I am pleased that the debate was conducted in an orderly and respectful manner and that we were able to hear a range of opinions from across the community – from those who feel frustrated with Mr Sharma's performance and his representation of Ealing Southall constituency, as well as from those who believe he has served his constituents well as its MP of 12 years.

"Ealing Southall is a hugely diverse community, and our local Labour Party membership reflects that. Tonight's vote represents a decision that has made by delegates from across those diverse groupings, and we full respect our members' democratic right to have voted no confidence in Virendra Sharma MP, and to take that decision forward to the next stage."
In response the MP said, "My values are tireless Labour values, those of fairness and equality, of standing up for people and communities against big business, profit and successive Tory governments that come for the weak, the young and the old as easy targets. I did this through work for unions and as a day centre manager for Hillingdon Council, and now I do it in Parliament.
"In the 1970s this country convulsed in opposition to racism and intolerance. The TUC and Labour Party were at the heart of the movement to oppose it wherever it stood out. I stood alongside Michael Foot, Tony Benn and Jack Jones in believing that in a modern society there is no space for racism. I worked with them closely, organised marches, coordinated and spoke alongside them. Today's racism is more subtle, better hidden, but old prejudices still linger. Southall is the most diverse area in the country, and should be represented by that diversity. The no-confidence motion in a first generation immigrant Member of Parliament by self-appointed anti-racist campaigners smacks of hypocrisy."
Peter Mason, a local councillor and member of the Jewish Labour Movement argued against the motion being put and Julian Bell, the leader of Ealing Council, who manages Mr Sharma's office argued that the motion should be voted on by a show of hands. A secret ballot was held and the motion passed by 41 to 18.
Rheian Davies, who moved the motion said, "Ealing Southall has some of the most deprived wards in London, with a man in Norwood Green year expected to live 6.5 years less than a man two miles up the road in leafy Hanger Hill. Austerity is literally killing us.
"We need, more than ever, a strong Labour MP. Instead we have Virendra Sharma who simply doesn't show up when needed; be it saving our town hall or seeing that constituents don't choke on the air they breathe. He feels no need to take action on behalf of his constituents or account to the party workers who knock doors for him."
Speaking after the vote Mr Sharma said, "I am proud to continue to serve Ealing Southall as their MP with a majority of more than 22,000 votes, the largest of any MP here in history. The vast majority of members continue to support me as do voters locally. This vote has taken place because I refuse to play local political games and have publicly criticised some Labour figures. The action today is motivated by religious and racial grounds, and those trying to split our local party do not represent our movement's vibrant history of anti-racist campaigning. I won't let them split our local party and will continue to represent everyone of all religions or none and all races in Ealing Southall. This vote does not change my commitment to our local community."
Unite have said on social media that this was only the view of the local branch of the union and any decision about supporting the deselection of Virendra Sharma would be taken at the national level.
March 22, 2019