Tickets donated for festive production at Questors
Participate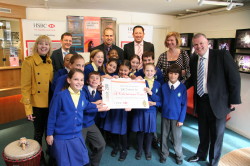 Delighted children from Mount Carmel school accept an early Christmas present from HSBC
Sign up for our free newsletter
Comment on this story on the
Children at Mount Carmel RC primary school in Ealing have been handed an early Christmas present.
The school has been given 200 tickets to see 'A Christmas Carol' at Questors Theatre, Ealing, on 15th December.

The tickets were funded by HSBC and presented by UK Head of Commercial Bank, Noel Quinn.
Before giving the children the tickets Mr Quinn toured the theatre and was treated to a short performance.
October 27, 2009