Small Business Saturday is on 7th December
According to the Federation of Small Business £1 spent with a local supplier puts £1.76 back into the local economy.
Saturday 7th December is the first ever 'Small Business Saturday' - designed at encouraging everyone to shop and spend locally.
Ealing Today supports local business and for this special week is offering free advertising to local traders who contacted us.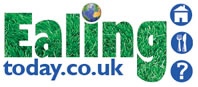 Serving Ealing since 1978 VKS based in Bond Street W5, offer great service and advice on all sports including tennis, rugby cricket and running. 020 8567 2780
Best Kids Party can be found at ww.bestkidsparty.co.uk A family run online business specialising in kids party bags, party bag toys and Pass the Parcel games. You will find a great selection of personalised Santa Sacks for Christmas.
"Wall stickers are always a brilliant idea to enliven any room".
I specialize in supplying and fitting of wall stickers.
www.annasdecor.co.uk
Brand new private orthodontic surgery, based in Ealing. 20% off all treatments and free initial consultation for a limited time. www.straighttalkorthodontics.com
Designers of luxury homeware and gifts, featuring our own original illustrations, with a Noir-ish rock & roll edge. http://www.toothandclaw.co.uk
Crossrail's coming. Ealing's thriving. Enrich your lifestyle and home with My-Studio interior design. Free 1-hour consultation. www.my-studio.co
Beautiful baby shower party packages at home/work including games, cupcakes, decorations. Loved by celebrities, seen in the press, from £19.99 www.beforebaby.co.uk
Theme party packages for any age/occasion at home/work. Mix & match/customise decorations, candy buffet, food & activities. Christmas packages available! www.partyalacarte.co.uk
Social Enterprise selling Monmouth Coffee and supporting people into employment. CanDo Coffee! Outside 85 Uxbridge Road. www.candocoffee.com
Expert maths and English tuition by fully qualified and experienced teacher. Free assessment. Ofsted registered. Numberworks'nWords Ealing: 0208 840 8404.
www.numberworks.co.uk
Azure - One of London's finest wedding bands. Delivering the finest pop, funk, disco and indie music to dance floors nationwide! www.azurefunctionband.com
Vanessa's Choice is a boutique natural product website set up by Nutritional Therapist, Vanessa May.Lots of Christmas present ideas!www.vanessaschoice.co.uk
Saturday theatre school.We specialize in singing, acting & dance classes for 14-18 year olds in Ealing. www.masqueradearts.com
Repair, Supply and Install all makes of domestic appliances, integrated or freestanding, from washing machines to fridges. http://www.astridtech.co.uk/
Joshi was Janes is a graphic design agency specialising in small to medium sized businesses, designing logos, leaflets and websites. www.joshiwasjanes.com


Penguin Craft Packs unlock your child's creativity while encouraging learning fundamentals. All the instructions and materials are included. Visit www.penguinpacks.com
For reliable and trustworthy Mini Cabs service always remember us. Gurkha Mini Cabs. Our tel no 02085757180/02085757788. www.gurkhaminicabs.com
'Contactus Ealing' local business magazine. Published four times a year - online as well as in print. www.contactusealing.co.uk
YOGA Tuesday evenings in W5 www.yogaloretta.co.uk. SHAPE & TONE Exercise class Thursdays 7.15pm, Room I, Northfields Community Centre. Shape.tone@blueyonder.co.uk
Igarages www.igarages.co.uk Advanced (Hunter) Four Wheel Alignment Center. All Mechanical repairs undertaken. New & Part Worn Tyres. MOT Repairs. Hand Car Wash. Rear of 299 Greenford Road

December 5th 2013